Recent analysis by Macmillan has suggested that around 50,000 patients have missed a cancer diagnosis during the pandemic.
The research has shown that women being diagnosed with stage four breast cancer has increased by 48% over the last few months which the charity say is down to COVID 19 disruption to NHS care.
Over the past 18 months there has been 47,300 fewer cancer diagnosis' in England than what is usually predicted.
Between March and June 2019, 18,400 people in England were diagnosed with stage one cancer, this dropped by 33% to 12,400 in the same period the following year.
Steven McIntosh, the executive director of advocacy and communications at Macmillan Cancer Support said  "There are major concerns that there may be a shift to later diagnosis as a result of later presentations and longer waits. When cancer is diagnosed at a later or more advanced stage, it can be more difficult to treat or may be incurable, which can have a huge impact on a person's treatment and prognosis.
"This data supports the widespread concern that the disruption caused by Covid-19 will lead to many people being diagnosed with more advanced cancer due to reduced numbers going to their GP with symptoms, delayed tests and longer waiting times."
Eleven per cent fewer people had cancer surgery in February 2021 then in February 2020. The NHS target of 85% of patients beginning their treatment within 62 days of diagnosis was not met with only 69.7% did so in February.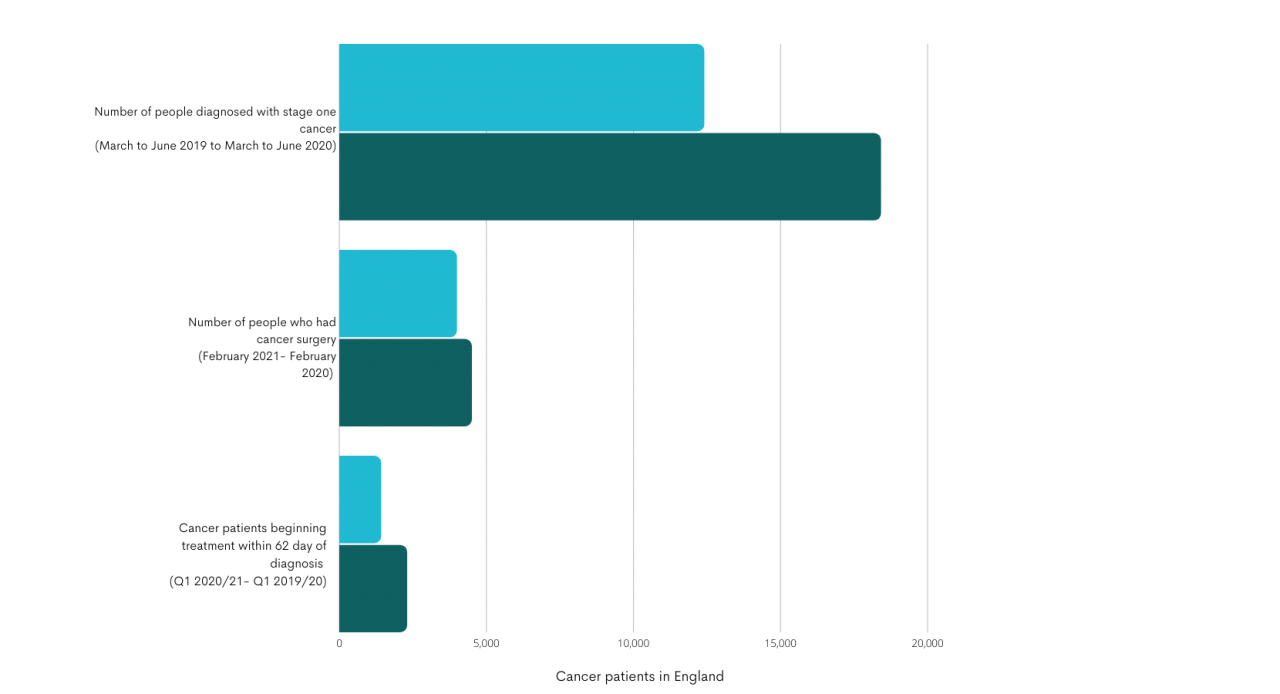 The NHS would need to work at 110% capacity to clear the cancer backlog caused by the pandemic. Macmillan estimate It would take eighteen months to catch up on missed cancer diagnoses' and fifteen months for cancer treatment.
Whilst the drastic differences support the view that the pandemic did cause delayed action in cancer care, less people came forward with concerns over cancer since the pandemic began, also contributing to the lull in numbers.