The Department for Health and Social Care has announced a new landmark deal to save the NHS billions of pounds over the course of five years.
Through the voluntary scheme for branded medicines pricing, access and growth, the NHS can save £14 billion in medicine costs across the five-year period that the agreement will run. This will also support patients to access lifesaving treatments more consistently, as well as solidifying the UK's position as an advanced healthcare superpower.
Additional funding worth £400 million from the life sciences industry will also help to speed up work on health technology, manufacturing, and clinical trials as this contributes to growth across the economy, as well as innovation and collaboration across the sector.
Victoria Atkins, Health and Social Care Secretary, said:
"Millions of NHS patients will benefit from this momentous, UK-wide agreement.
"Not only will it save the health service billions of pounds every year, it will allow more patients to quickly access the latest life-saving medicines and treatments.
"This deal will also ensure the UK remains a world leader in driving forward innovative healthcare while boosting our economy, with hundreds of millions of pounds invested in vital research, clinical trials and manufacturing."
With medicines comprising the second highest proportion of NHS spending, £14 billion of the £19.2 billion that was spent on medicines were branded. This has led to the government using the agreement to set a yearly cap on the total allowed sales value of branded medicines to the NHS, with sales that go above the cap being paid back to the government through a new levy.
As the agreement comes into effect next year, £400 million will be invested into the Life Sciences Investment Programme from the pharmaceutical industry to help drive innovation, sustainability, and growth in the UK health sector. This funding will be ringfenced, with support contributing to:
Pioneering clinical trials

Manufacturing

Innovative health technology assessments
These goals will work to improve the NHS' capacity for commercial clinical research, improve the UK's standing in sustainable manufacturing, and support innovative medicines.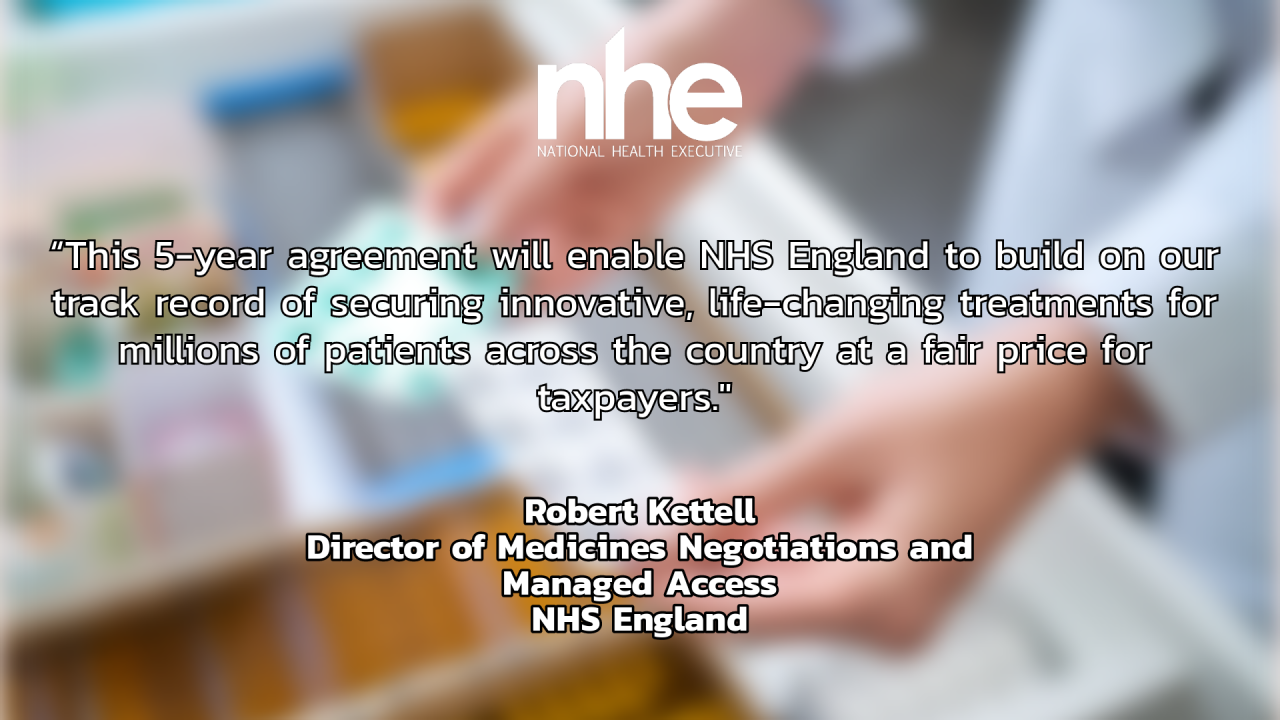 NHS England's Director of Medicines Negotiation and Managed Access, who led day-to-day negotiations, Robert Kettell, added:
"This 5-year agreement will enable NHS England to build on our track record of securing innovative, life-changing treatments for millions of patients across the country at a fair price for taxpayers.
"In leading the negotiations, I was clear that any deal had to enable patients to have rapid access to cutting-edge medicines and incentivise the medical research that will provide the treatments of tomorrow. I am confident this agreement delivers these aims."
Image credit: iStock