Over 1.5 million people in the UK are effected by aortic stenosis each year, if left untreated the disease is fatal. A form of heart valve disease aortic stenosis is a growing problem and kills up to 450 people a year.
Transcatheter Aortic Valve Implantation (TAVI) has been introduced as an alternative therapy to replace damaged aortic valves, in patients considered high risk for traditional open-heart surgery.
The procedure is less invasive and patients can be discharged from hospital in a short period, allowing them to return to normal life whilst also saving hospital resources.
Despite the benefits of TAVI for high-risk patients, patient access to this procedure is limited in the UK with profound geographical inequity and long waiting lists, made worse by the Covid-19 Pandemic which has resulted in a significant decline of all major cardiac procedural activity across England.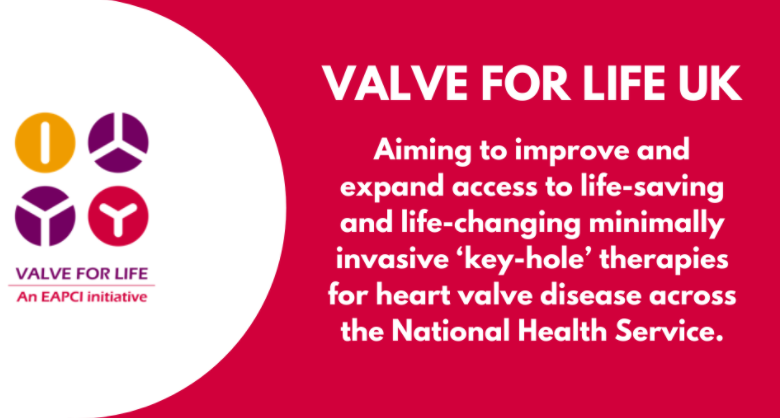 Within the UK the inequalities are substantial; in 39 areas across the UK fewer than 50 TAVIs per million were performed compared to a national average of 78 TAVI per million in the whole of the UK and an average of 141 per million across Europe.
Furthermore, among 23 centres, the average wait for treatment was over 20 weeks, leading to hundreds of avoidable deaths as well as unnecessary emergency hospital admissions.
The Valve for Life Initiative was created to combat this. The initiative has four main goals: to raise awareness of valvular heart disease, facilitate access to new therapies such as TAVI, increase educational standards and reduce obstacles to therapy and discrimination in access to care.
Launched December 8, a group consisting of the new APPG on Heart Valve Disease, MPs, clinicians and charity leaders are passionately working together to increase the use of TAVI across the country and to fight geographic inequalities.
The launch was a massive success with policy-makers, healthcare professionals and prominent patient advocates from the heart valve disease space discussing the urgent need to establish a fast-track TAVI pathway for UK heart valve disease patients to tackle these challenges. All in attendance look forward to holding further engagement events and widening stakeholder involvement.
Speaking on the success of the event, Steve McCabe MP, said: "I am very proud to chair the APPG on Heart Valve Disease and to support the launch of the Valve for Life initiative. Collectively, campaigning to ensure that more patients get access to TAVI will mean better outcomes for patients and less pressure on hospital resources.
"We are campaigning for a fast-track pathway akin to that used in oncology and we have clinical, parliamentarian and patient group support for change. From today's meeting, I am feeling confident that we can make headway with making this a reality within our NHS by 2022."