Patients in London are to benefit from improved health outcomes as Kingston Hospital NHS Foundation Trust indicate planning has begun for a new, upgraded intensive care unit (ICU).
The London trust describes its current ICU as a "challenging environment" specifically outlining how the design and layout of the facility inhibits staffing models and patient rehabilitation.
The new build however – which the trust is intending to construct at the heart of the Kingston Hospital site – will feature four levels, including a car park on the ground floor and extra space that will be used for future needs or pressures.
The first floor will have ICU support services and a future pharmacy with the second floor housing the actual ICU and the top floor allowing access to a patient sky garden.
The local health service expects to submit a full business case by August with construction scheduled to begin this November and finish in April 2025, culminating with an eventual launch two months later.
Some of the objectives of the new ICU were detailed during an engagement event that was put on to the aid planning.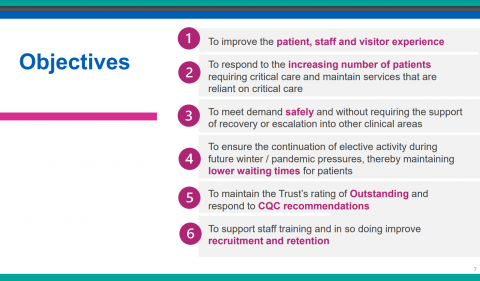 Kingston Hospital's chief executive, Jo Farrar, said he and his organisation were "really keen" to ensure the new ICU was at the "cutting edge of healthcare" as well as highlighting the trust's ambition to make the facility an asset to both staff and patients alike.
To find out more about the latest developments in healthcare estates and other parts of the health sector, read the latest edition of our online magazine.