After a highly successful inaugural webinar discussing the consequences of patient immobility Medstrom is continuing its series of high-quality educational webinars.
This next webinar, to be held on May 11, 2021, 14:00 - 15:15, has 3 key speakers who are passionate about the content matter that they are delivering and will focus on medical device innovation in the NHS.
In doing so, it promises to provide essential, thought-provoking content for decision makers involved in the selection of medical devices in the Healthcare sector.
The speakers for this webinar are:
Dr Rebecca Hanlin, Innovation and Development Consultant and Director, Social Business Solutions Limited, UK
Rebecca came to the field of medical devices through her work in the mosquito bed net field.  Rebecca's research focuses broadly at how industrial and health policy interact, especially in developing country settings.  Rebecca has PhD in Science and Technology Studies from University of Edinburgh and is co-editing a book to be published later this year that asks how to make health innovation more inclusive using case studies from the medical device sector. 
In this session, Rebecca will provide an academic perspective on the imperatives of innovation for a medical devices firm.  She will discuss the importance of thinking in terms of an 'innovation system' to better understand the supply and demand bottlenecks that face those trying to get innovations successfully introduced into a healthcare system.  Rebecca will stress the importance of having the right skills and capabilities as well as collaboration and coordination mechanisms. She will illustrate this with examples from studies on the NHS as well as from other national contexts.
Matthew Campbell-Hill, Institute of Clinical Sciences Senior Fellow, Novel Medical Technologies, University of Birmingham
Matthew is an emerging and novel medical technology review and adoption specialist. During nearly ten years as a founding member of the Medical Technologies Advisory Committee for NICE, Matthew reviewed hundreds of novel medical devices providing recommendations on their adoption and use across the NHS. Matthew also reviewed approximately 50 pharmaceuticals as a member of the Technology Appraisals Committee B (NICE) before he became an Independent Board Member of the National Information Board, where he was the independent lead on the rollout of medical apps across the NHS.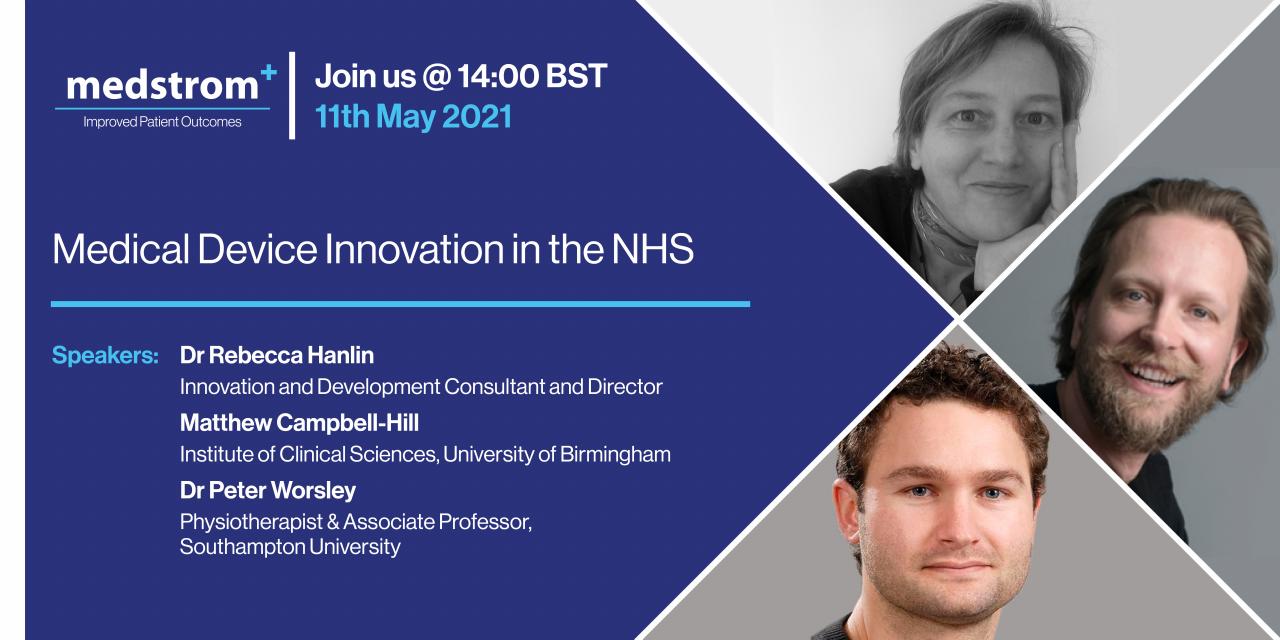 Following his end of appointment as a Non-Executive Director of the MHRA, Matthew took up a Senior Fellowship in Novel Technologies at the University of Birmingham College of Medical and Dental Sciences. Matthew continues to consult on technology adoption and maintains multiple board and strategy advisory roles.
Matthew maintains a portfolio of senior roles across public, private, academic and third sector, and continues to compete internationally as a member of Team GB.
In this webinar Matthew will discuss what a medical device is.  What you need to consider and who to consult with before purchasing.
Dr Peter Worsley, Associate Professor within Health Sciences, University of Southampton
Peter Worsley's research and clinical experience has fuelled a passion for scientific understanding of key healthcare challenges. Peter is a physiotherapist by training who subsequently completed a PhD in bioengineering. He has been working in a Clinical Academic Facility at Southampton University for the past 9 years, with a focus on skin health research. In collaboration with colleagues, he has developed an international reputation in pressure ulcer prevention, leading a range of projects which have involved working with clinicians, industry, and policy makers. He sits on the editorial board of the Journal of Tissue Viability and is the current chair of the Scientific Committee of the EPUAP.  
During this webinar, Dr. Worsley will focus on clinical evidence supporting medical devices.  What level of evidence should you seek to support innovations? How to scrutinise the evidence you are presented with.
We hope that you can join us for what promises to be a webinar discussing key points and all you need to know about medical device innovation in the NHS.