Hull University Teaching Hospitals NHS Trust (HUTH) has been central to the further development of the unique MyPorter software management system aimed at transforming patient flow in hospitals.
MyPorter was developed by porter managers, for porter managers, with its creator GlobalView Systems working with more than 100 NHS Trusts to gain their insight before developing the unique solution. The team at GlobalView worked most closely with Hull University Teaching Hospitals NHS Trust (HUTH) to ensure the software is optimised to suit the reactive, high volume and time critical nature of the tasks carried out by the portering service.
Hull University Teaching Hospitals NHS Trust (HUTH) is a large Acute Trust and one of 27 Major Trauma Centres. (MTC) HUTH treats around a million patients every year. Based across two hospital sites approximately five miles apart, the portering service underpins the effectiveness of the clinical services throughout the hospital, affecting every aspect and fundamental to providing the very best patient care. With over 20,000 portering tasks carried out each month, if just one in 10 of these were delayed for 15 minutes this would equate to 500 hours in lost portering time each month.
Mark Edwards, Portering Officer, said: "MyPorter gives us great insight into porter availability, and how long they have been waiting or on task, ensuring tasks can be allocated effectively across the team to improve productivity and the patient experience.
"The data and insight that MyPorter gives us enabled us to make the right decisions at the right time."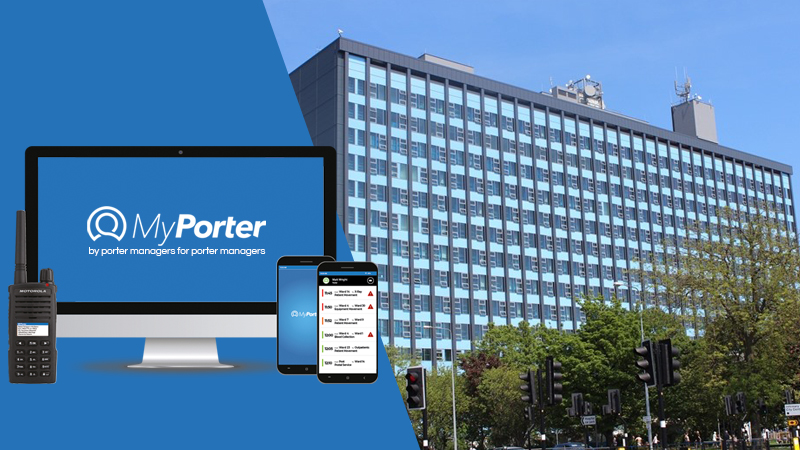 Portering provides a vital function within hospitals, without which clinical and non-clinical services cannot operate effectively. MyPorter is a unique task management system, which enables tasks to be allocated, communicated and tracked, with details sent via text message to digital two-way radios.
The system is robust and resilient, providing an independent communications system purpose-built for critical services. Management reports are quickly and readily available, reducing the demand on management time and providing objective information to help plan future service delivery. MyPorter provided HUTH with the insight it needed to be able to adjust shift patterns to align more closely to peaks in demand, meaning more could be achieved with existing portering staff, and the new approach has enabled less reliance on casual worker staffing and over-time.
The system is proactive; the helpdesk receives notifications before the start time for a task is missed, ensuring reliability of service and alerts to help meet SLAs. Data capture enables paused events, the reason, their duration and their location to be recorded. This makes it easy to identify the causes of delays, and to work with relevant departments to reduce time lost.
Richard Iveson at GlobalView Systems, explained: "Portering is a finite resource, and it's critical that the right levels of resource are in place at the right time.
"Without this, patient flow can be significantly adversely impacted, potentially delaying treatment and transfers of care, and reducing clinical effectiveness. MyPorter uses data insight and effective reporting to clearly identify when peaks in demand are occurring, and enable resource to be planned accordingly.
"It can also improve the patient experience, streamlining their movements within the hospital for minimum disruption, and increasing privacy and dignity."
MyPorter has also improved the patient experience. There is a smoother flow throughout the patient journey, with porters arriving when needed, resulting in fewer delayed or missed appointments, more effective use of essential equipment, and reducing demand on nursing and clinical staff for patient movements.
David May, Porter, Postal and Switchboard Service Manager, added: "Having a task management system that can quickly and easily identify the nearest available porter in relation to the next task, location and priority is key.
"It helps to improve the service we deliver to our patients by ensuring they arrive to and from their appointments safely and in good time. It also ensures the team workload is more efficiently managed across our sites.
"Our team have full visibility of all portering activity across our hospital sites including within the Emergency Dept, enabling our service to plan, respond and coordinate resources more effectively."
For more information on MyPorter, please visit: https://www.myporterlogistics.com/