The NHS will employ one in 11 of all workers and half of those in the public sector if the ambitions set out in the NHS long-term workforce plan are to come to fruition, analysis from the Institute for Fiscal Studies (IFS) has concluded.
The research, which presumes the NHS long-term workforce plan is achieved in full, shows that to reach the approximate 2.4 million-strong incumbency by 2036/37, the workforce would have to grow between 3.1% and 3.4% per year. This compares to the annual growth of 1.1% between 2009/10 and 2019/20.
If this were to happen, nearly half (49%) of all public sector workers in England would be employed by the health service in 2036/37 – this is opposed to just over four in 10 (38%) in 2021/22. This is also the equivalent to one in 11 (9%) of all workers being employed by the NHS, which was just one in 17 (6%) in 2021/22.
IFS warns of the significant implications such rapid staffing increases could have fiscally for the country, as, if the government wants to meet the goals its set in the plan, wages would have to become better in real terms – potentially even outpacing the growth seen in the rest of the economy.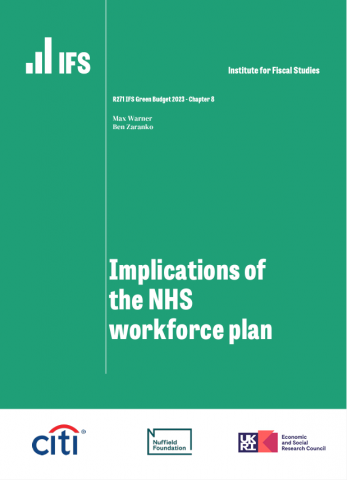 This would be similar for non-staffing inputs too – i.e., drugs, technology, equipment etc. In fact, IFS projects that NHS resource funding would need to swell by between 2.4% and 4.4% a year to correlate with the extra expenditure implied in the long-term workforce plan.
This would amount to anywhere between a 42% and 90% funding increase between 2021/22 and 2036/37, with IFS' central estimate falling at 3.6% annually and 70% overall.
On this central estimate, spending on the NHS in England would be around 2% of GDP higher by 2036/37, compared to 2021/22; this would be the same as £50bn today.
IFS highlights that, although other options are available, raising this sort of money would mean increasing the standard VAT from 20% to 27% by 2036/37; this could also be done by hiking all income tax rates by six percentage points.
Even if all this were to come to pass though, it would only be enough if NHS productivity grows by 1.5% to 2% each year – something that could prove to be difficult considering the average rate of productivity growth observed in the NHS was only 0.8% between 1995/96 and 2019/20.
Co-author of the report and research economist at IFS, Max Warner, said: "The publication of the NHS workforce plan and its detailed workforce projections is an important and welcome milestone for the NHS.
"We estimate that the plan might imply average real-terms funding growth of around 3.6% per year for the NHS in England. That is by no means outlandish by historical standards, but would nonetheless require difficult fiscal decisions in the current climate of sluggish growth."
He continued: "NHS modelling suggests that even these large staffing increases will only be 'enough' to meet future demand if staff productivity can be increased by a highly ambitious 1.5% to 2% per year.
"The risk of having a workforce plan but no similarly high-profile plan for capital, technology or management is that higher spending on staffing squeezes out other vital inputs, and makes those productivity gains all but impossible to achieve."
To read the full report, click here.
Image credit: iStock