The Walton Centre NHS FT has extended satellite spinal clinics in North Wales for the first time.
The specialist neurosciences trust - based in Liverpool - is working alongside the Robert Jones and Agnes Hunt NHS FT to bring care for spinal patients closer to home.
There are new clinics in several hospitals governed by Betsi Cadwaladr University Health Board, which are being provided by the two specialist trusts.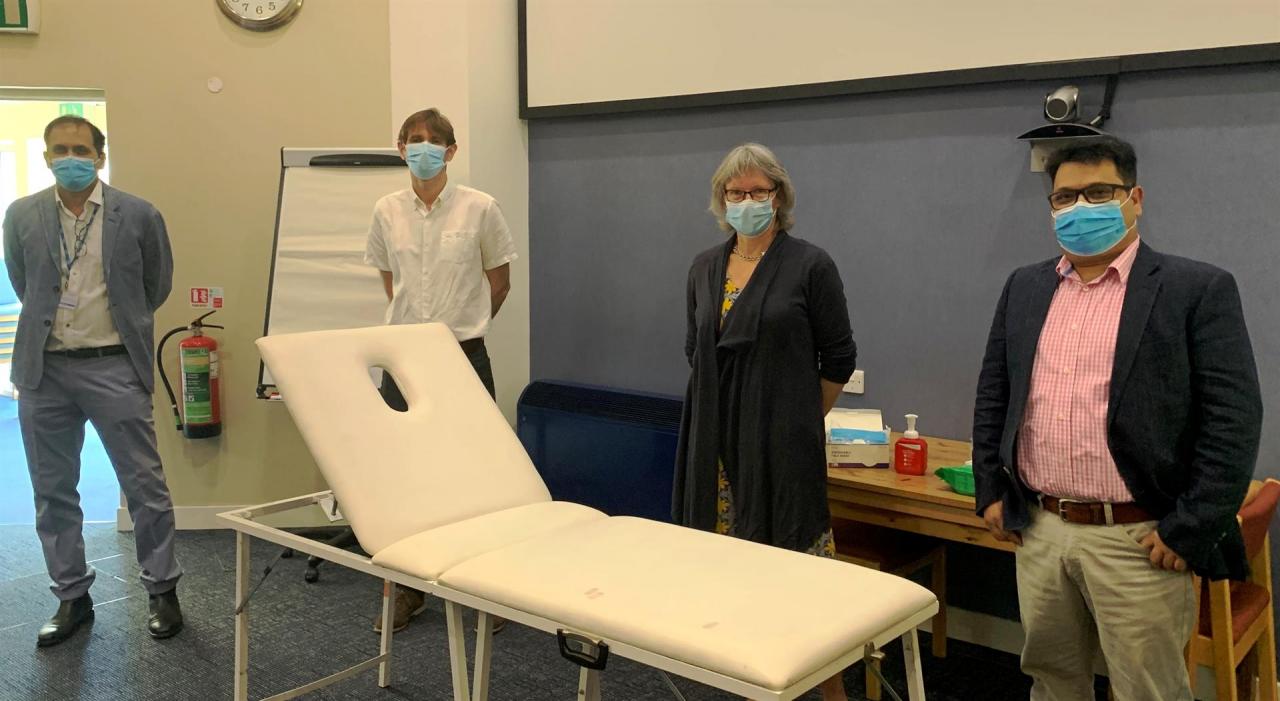 The Walton Centre's Consultant Spinal Surgeon Narendra Kumar Rath (Pictured above, far right) provides a spinal clinic in Holywell Community Hospital near Rhyl, and said: "The aim is always to do what is right for the patient, and in this case, it was enhancing how they access The Walton Centre and its' spinal services.
"As a part of our Care Close to Home Initiative bringing clinics to some of the more remote regions the hospital serves, which means less travel and more meeting clinicians, which is often a stressful occurrence, in a familiar setting.
"It also provides opportunity to develop an inter-regional network among various specialities and truly serves as a multidisciplinary facet of this service.
"Having held clinics already, I can say with some confidence that both patients and clinicians are responding positively to having us closer to home."
"Staff and their patients are better supported with these shared clinics in place."
The Walton Centre is the only hospital trust in the UK specialising in neurology, neurosurgery and pain services.
It has twice been rated as 'Outstanding' by the CQC.
Although the majority of patients come from Merseyside, Cheshire, North Wales, Lancashire and the Isle of Man, when it comes to some specialist treatments for complex disorders, the trust sees patients from all parts of the country, referred by their GPs or other neurologists, neurosurgeons and pain clinicians.
The sharing of services means that it will be more viable for patients to be seen closer to home.
Birender Balain (pictured above, far left), Consultant Spine Surgeon at The Robert Jones and Agnes Hunt Orthopaedic Hospital (RJAH), who is currently running a clinic at Wrexham Maelor Hospital, said: "The extension of these clinics, based at locations closer to patients' homes, is highly beneficial for the patients.
"This greatly benefits other clinicians as well.
"A multi-disciplinary approach is most helpful, and this helps the Clinical Musculoskeletal Assessment and Treatment Service (CMATS) team as well by supporting them.
"Enhanced teaching through interaction helps to make the most effective treatment plans for patients in a timely manner.
"The clinics at Wrexham Maelor have, already in just a few months, helped a closer understanding between different specialities like spine surgery, pain clinics and CMATS clinicians, and it is great to see that."
Yvonne Rimmer, Consultant Therapist MSK at Betsi Cadwaladr University Health Board, said: "Having access to the spinal consultants from The Walton Centre and RJAH has enabled multi-disciplinary clinics to be set up where complex patients can be discussed and management advised, facilitating  provision of high quality, safer practice through access to this expertise.
"These case discussions have also reduced inappropriate referrals to tertiary services.
"Staff and their patients are better supported with these shared clinics in place.
"It has also enabled shared spinal learning events with orthopaedics, radiology and physiotherapists supporting spinal pathway improvement work."
For more information please visit: www.thewaltoncentre.nhs.uk or follow the Trust on Twitter, Facebook or Instagram.