Many health and care professionals would welcome the opportunity to undergo extra training to inform future conversations about financial wellbeing with patients, new research has revealed.
This comes after a study from the Personalised Care Institute (PCI) and the Money and Pensions Service (MaPS) revealed that nearly half (46%) of 500 patient-facing professionals reported noticing an increase over the last six months in the number of people presenting with conditions that have either been caused, or exacerbated by, financial worries.
Despite this, just under nine in 10 (88%) did not feel equipped to have financial conversations with patients. This is for a variety of reasons, including thinking that:
it is not their place – 40%

it would cause embarrassment – 34%

they would not have the right answers – 20%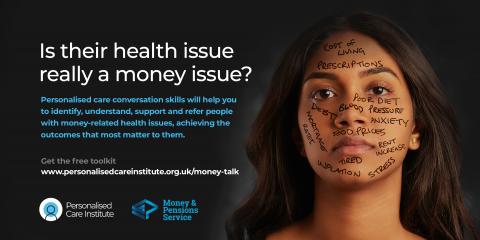 To combat this, the PCI and MaPS have launched a new Money Talk Toolkit that will equip healthcare professionals with the personalised care conversations skills they need to have these discussions with patients.
"Health and care professionals are regularly found to be among the 'most trusted' members of our society and the NHS is our most trusted institution, so who better to sensitively raise the issue of financial wellbeing with patients in order to optimise health," said the PCI's clinical director, Dr Emma Hyde.
"Through the introduction of the Money Talk Toolkit, we hope to empower health and care workers to do exactly that, supporting them to have these important and never more timely personalised care conversations with patients."
The toolkit offers a free range of training and resources that will educate users about how to begin conversations, what information to provide patients with, and how to signpost support.
The training has been designed to work for all health and care professionals, including social prescribing link workers and health and wellbeing coaches in GP practices.
Claire Wells, who is the programme manager for personalised care at Blackpool Teaching Hospitals NHS Foundation Trust, added: "Having the confidence to support or have a conversation with someone who is experiencing financial difficulties can be daunting, so these free tools are incredibly welcome and timely."
"I would highly recommend that all health and care professionals access this collection of courses and resources to enable them to more effectively and efficiently support patients with money worries.
"For example, knowing about the benefits calculator, which is referenced in the course, could really help those patients who may not be claiming all of the benefits they are entitled to or even be aware that such benefits exist."
The PCI provides and accredits personalised care training for health and care professionals, while the MaPS is sponsored by the Department for Work and Pensions to help people with money and debt problems.
Image credit: iStock