A new clinical trial has been announced, as the search continues for a vaccine against MERS, being developed by Oxford and Liverpool scientists.
Middle East Respiratory Syndrome is a viral illness, coming from the same family as Covid-19, however there are currently no approved treatments or vaccines available. Alongside this, up to a third of all infections, often starting when the virus spreads to humans from camels, prove to be fatal.
The University of Oxford began the process of developing a vaccine against MERS before the Covid-19 pandemic, after the virus was first identified in Saudi Arabia in 2012. The research that had already been done was integral in the rapid development of the Oxford/AstraZeneca vaccine for Covid that has saved approximately 6 million lives around the world.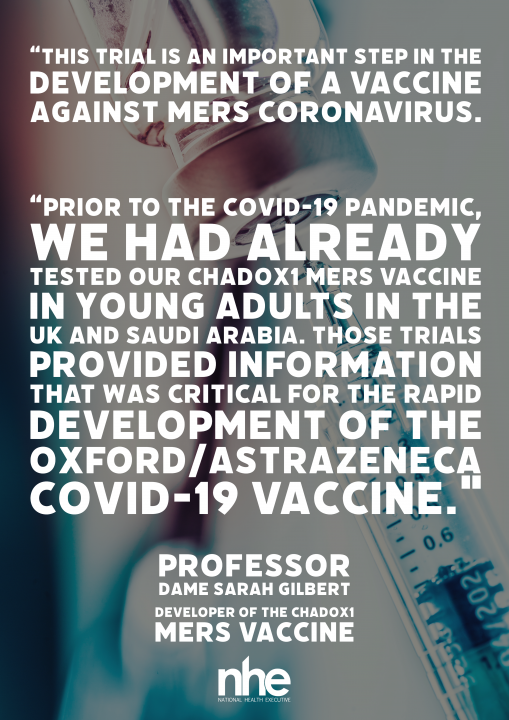 Developer of the ChAdOx1 MERS vaccine, University of Oxford's Professor Dame Sarah Gilbert, commented:
"This trial is an important step in the development of a vaccine against MERS coronavirus.
 "Prior to the COVID-19 pandemic, we had already tested our ChAdOx1 MERS vaccine in young adults in the UK and Saudi Arabia. Those trials provided information that was critical for the rapid development of the Oxford/AstraZeneca COVID-19 vaccine. 
 "We are now returning to the task of developing a vaccine against MERS, and for the first time will test it in older adults, which is the age group most in need of protection against this life-threatening virus."
The trial will take place in Liverpool, with 84 people aged 50-70 participating, with this stage following two previous Phase 1 trials in the UK and Saudi Arabia. This next trial will build on the existing results, with a strong immune response after one dose and the vaccine being well tolerated by healthy volunteers that are aged 18-50. The main focus of this trial will be to examine the safety of the vaccine in older people, utilising one and two doses of the vaccine.
Dr Melanie Saville, CEPI's Executive Director of Vaccine Research and Development, added:
"The world continues to bear witness to the grave danger and devastation that coronavirus threats can bring through the COVID-19 pandemic – and its deadlier viral cousin MERS remains of regional and global concern as highlighted by recent cases in Abu Dhabi and Saudi Arabia.
 "This latest Phase I trial of Oxford's MERS vaccine, developed on the ChAdOx1 platform – one of only a few clinically validated rapid-response platforms globally – is of particular importance as the findings will provide critical guidance on how we can better protect vulnerable communities from the health and socioeconomic impact of this deadly pathogen."
CEPI will be funding the trial, with it being led by the University of Oxford's Oxford Vaccine Group And delivered by the Liverpool School of Tropical Medicine and the Liverpool University Hospitals NIHR Liverpool Clinical Research Facility.