The NHS is to expand the use of a secure research platform behind the roll-out of new COVID-19 treatments to help drive life-saving advances for other major diseases.
The platform, called OpenSAFELY, was developed in collaboration with the Bennett Institute for Applied Data Science at the University of Oxford. It enables researchers to securely analyse data from GP systems without seeing patient-identifiable information.
OpenSAFELY played a crucial role during the pandemic, helping researchers to understand which patients were most at risk of the virus, evaluate the effectiveness of vaccines, and monitor which patients were receiving new COVID-19 treatments.
"The data held by the NHS is globally unique and as we saw during the pandemic, this approach enables researchers to benefit from that valuable resource, whilst keeping the data secure, safe and private." said Dr Vin Diwakar, NHS national medical director for transformation.
The NHS will now carefully test which types of research the service could support beyond COVID-19. OpenSAFELY will be open to new research applicants as soon as possible in 2024.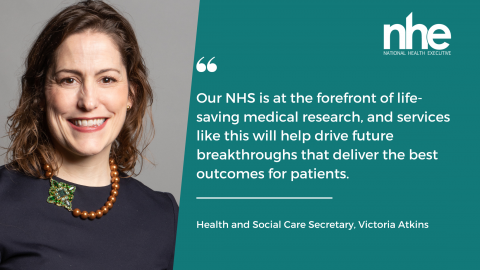 The expansion of OpenSAFELY builds on a wider program already outlined in the government's Data Saves Lives strategy to improve health and care using data.
Professor Laurie Tomlinson from the London School of Hygiene and Tropical Medicine said: "As a clinician who has worked with Electronic Health Record data for many years, it has been frustrating to see that the potential of NHS patient data to improve care and health service delivery has been largely untapped.
"OpenSAFELY is a transformative approach to patient data, enabling rapid, large-scale research to provide answers to critically important research questions, while protecting patient privacy. I am absolutely delighted that it has become part of the national infrastructure for the secure use of patient records to improve healthcare."
Health and Social Care Secretary Victoria Atkins said: "Our NHS is at the forefront of life-saving medical research, and services like this will help drive future breakthroughs that deliver the best outcomes for patients. It played a vital role during the pandemic, helping us to identify which people were most at risk of the virus and determine the effectiveness of vaccines."
Photo: iStock