Medway NHS Foundation Trust have recently introduced the first stage of their electronic patient record (EPR) system, which will help to reduce time spent finding files and increase time spent with patients.  
The programme went live with 24 inpatient adult wards in late 2021 and since then has produced over 390,000 documents and has 1,300 active users.  
Suzanne O'Neil, the Electronic Patient Record (EPR) Programme Director at Medway Foundation Trust, has worked with staff to ensure the switch to the EPR system ran smoothly for both patients and health workers.  
Suzanne says: "Before we deployed, we did a time in motion study, where we observed nurses, consultants, and junior doctors, and watched how they went about their day-to-day activities with paper records. We will be re-running that time in motion study in about six to eight months' time. From that, we can get back quantifiable data to ensure that it has achieved what we hoped it would achieve." 
Between shift patterns, staff shortages and a rise in demand during the pandemic, training such a large workforce was something Medway NHS FT knew could be challenging.  
The trust was confident that despite all these factors, introducing the system would not hinder the day-to-day functioning of the hospital and in fact enable staff to have better use of their time whilst on the ward. 
"This is not an IT project. This is a system that is fundamentally changing the way staff work"
Suzanne O'Neil, EPR Programme Director, Medway  NHS Foundation Trust
Suzanne adds that the trust "provided teaching at a time and place that helped staff, so if staff are on a night shift and two o'clock in the morning is a quiet time for them, we would have staff available to go and do the training for them or we would provide breakfast and do the training within that". 
"We wanted to create a competitive but fun environment for training. So, each day, the ward that achieved the greatest percentage of training were given a gift every morning. And for every week, the wards that achieved the greatest percentage increase in their staff in training numbers, were presented with a hamper and a certificate by one of our executive team. 
"We also tailored the training to the workforce groups so, if you were a consultant or a doctor, there were particular training modules and the same for a nurse or allied health professionals." 
The EPR programme was implemented into the hospital to improve patient care. One way in which that is being achieved is by saving valuable time by eliminating the paper trail, freeing up health staff to allow them to spend more time caring for patients. 
"These systems need to enable us to release time to care, whether that's time to care for the patient in the bed or actually to provide planned elective care as well." 
"The time in motion study should provide us with the evidence to show that in fact, we have managed to do that. And I think that, even anecdotally, some of our clinicians are saying that they're saving between 20 and 30 minutes per patient by not having to track down a patient's paper records." 
Medway NHS FT created an ambassador type role, which they named 'Digital Champions'. These new 'digital champions' saw nurses and doctors who were confident in using technology being present out on the wards in the run up to the launch date and during the system going live to help support and encourage their colleagues. 
Suzanne explains: "I think one of the other things that was a real success, because the deployment went so smoothly, and calmly, was our creation of the digital champion campaign. We went out and asked staff if they were interested in becoming a digital champion and were willing to work with us in preparation for the deployment." 
"We started twice weekly briefings with the Digital Champions eight weeks before go live, talking them through what we would do, how we would do it and then a week before our go live date, we did a full-dress rehearsal of what the go live day would look like, so if we hit problems, we could figure out how to manage them and help support staff. 
"During the go live period, the Digital Champions actually worked with us out there on the wards supporting their colleagues for the deployment of the programme. 
"We had nurses talking to nurses, reminding them how they might have to do something, or junior doctors or doctors or allied health professionals. So that was a real success factor." 
The trust is now looking to head into the next phase of the programme which will include electronic prescribing and medicine administration followed by deployment of the system into A&E, pathology and radiology.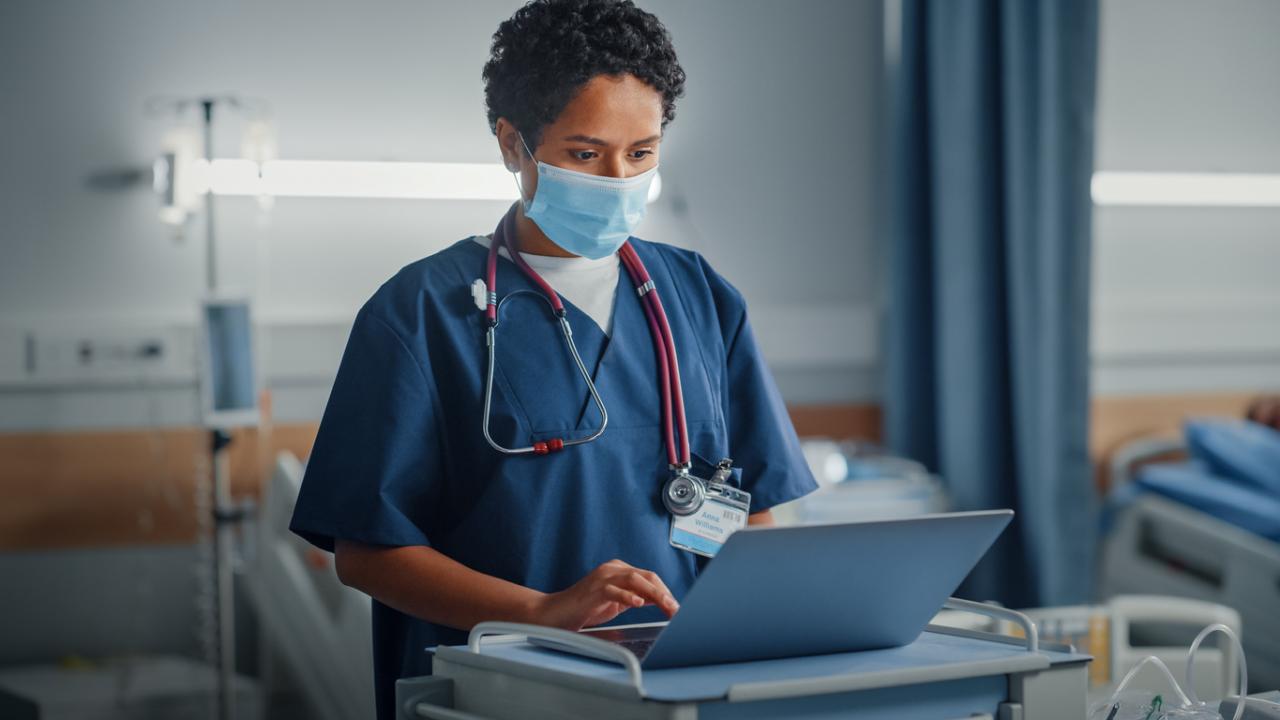 Suzanne describes the EPR system as "a cultural change, with digital as the enabler. 
"This is not an IT project. This is a system that is fundamentally changing the way staff work and that's why organisational development was critical. 
"It's changing the way staff work, in some instances throughout their whole career in the NHS. For us, it was making sure that we provided a supportive and caring environment. We listened to the staff, and we've provided as much help as we possibly can to help them. The staff are waiting for the next rollout." 
If you would like to read more around the digital innovations happening within healthcare, you can find the latest edition of our e-magazine here, featuring pieces across digitising the NHS, achieving a greener NHS, pharma and more.