This Chiropractic Awareness Week (4th – 10th April), we spoke to Catherine Quinn, President of the British Chiropractic Association (BCA), to uncover the value and relevance of chiropractic care in today's health landscape - from what that means for primary health service providers and the profession's stance on building more integrated working, to how consumers can benefit from chiropractic treatment.  
Catherine has been President of the BCA since 2017 and is the youngest President the BCA has ever had. She is the third female President in the BCA's history, with its first in 1945 and the second in 1970. As well as making a lasting impact on the BCA by breaking down some of the barriers and myths about the industry, Catherine has empowered those in the profession so that its breadth and support is better understood by a wide range of audiences.
We started our conversation by discussing integrated healthcare, asking what role chiropractors can play and why a more collaborative approach is beneficial to primary services. 
Catherine explained by touching on some of the pressures that primary care providers face: " Musculoskeletal (MSK) conditions are the leading cause of disability, accounting for 30% of all years lived with disability. The impact of the COVID-19 pandemic is still being felt by these patients and their healthcare professionals alike. Patients with MSK conditions are still having their care impacted from issues such as having clinic appointments cancelled, difficultly in access face to face care and some unable to continue regular prescribed exercise.
When the pandemic struck, overnight, many people with existing MSK conditions were unable to access face to face services. This situation left patients facing cancelled appointments, unsure how long their treatment might be delayed. As the situation continued, increasing numbers of people with new symptoms were unable to access NHS support meaning there has been huge increase in patients seeking care from the independent sector. Private healthcare practitioners have a role to play in ensuring sufficient capacity in community and preventative MSK services, allowing for patients to have a choice in how they access their healthcare.
As chiropractors, we have been pleased to contribute to the burden of MSK conditions by working alongside our primary care colleagues, and, allowing other healthcare professionals, to tap into the expertise that chiropractors can offer.
"Better integrated care models mean that patients can receive more direct routes to the treatment they need"
"There's often a level of misconception towards chiropractic care and a lack of understanding about its rigour; qualified individuals in this profession are working as fully regulated healthcare professionals with at least four years of Masters level training. BCA members take this a step further. New members are provisional until they complete their post-registration training with the Royal College of Chiropractors. This is because we want all our members to be supported through their initial year of practice and achieve the highest standards of care for their patients by engaging in reflective practice and integrated learning.
"Where primary services face pressures to hit targets and often have large patient rosters, chiropractors can alleviate some of those waiting times by helping individuals that need musculoskeletal (MSK) treatments. 
"This is something we're incredibly passionate about at the BCA. Where private practice referrals are becoming more common, in line with the modern healthcare movement towards greater patient choice, integration means that chiropractors are becoming a part of the private and public blend – with the shared goal of providing the most efficient and effective patient care.
"In short, better integrated care models mean that patients can receive more direct routes to the treatment they need. I believe chiropractors can better contribute to the health of our country's population, supporting primary health workers within the NHS via mutually beneficial collaboration."
We continued our discussion by addressing some of the ways chiropractors can begin working on a more integrated basis, touching on First Contact Practitioners (FCPs). I asked Catherine why it's helpful to have chiropractors in these roles.
"FCPs are healthcare professionals who provide the first point of contact to patients with MSK conditions, instead of the patient first having to make an appointment with and be referred by a GP.
"There's a lot of evidence to show that primary care services using FCPs are able to alleviate some of the challenges that the current GP referral system faces. For example, 30% of GP appointments are related to MSK conditions so there's an amazing opportunity for chiropractors to get stuck in with supporting those services and alleviate the growing pressures.  
Chiropractors can offer vital support by reducing wait times, increasing quality of care and getting patients the treatment they need in the name of supporting the NHS.
"Most importantly, as a result of FCPs, MSK patients are seeing much shorter wait times for treatment (as little as 2-3 days), so the benefits speak for themselves for both the patient and GP."
So, it seems like there's huge opportunity here to address a tangible need – however, why aren't more chiropractors already in this role and what's your vision for the future of chiropractic?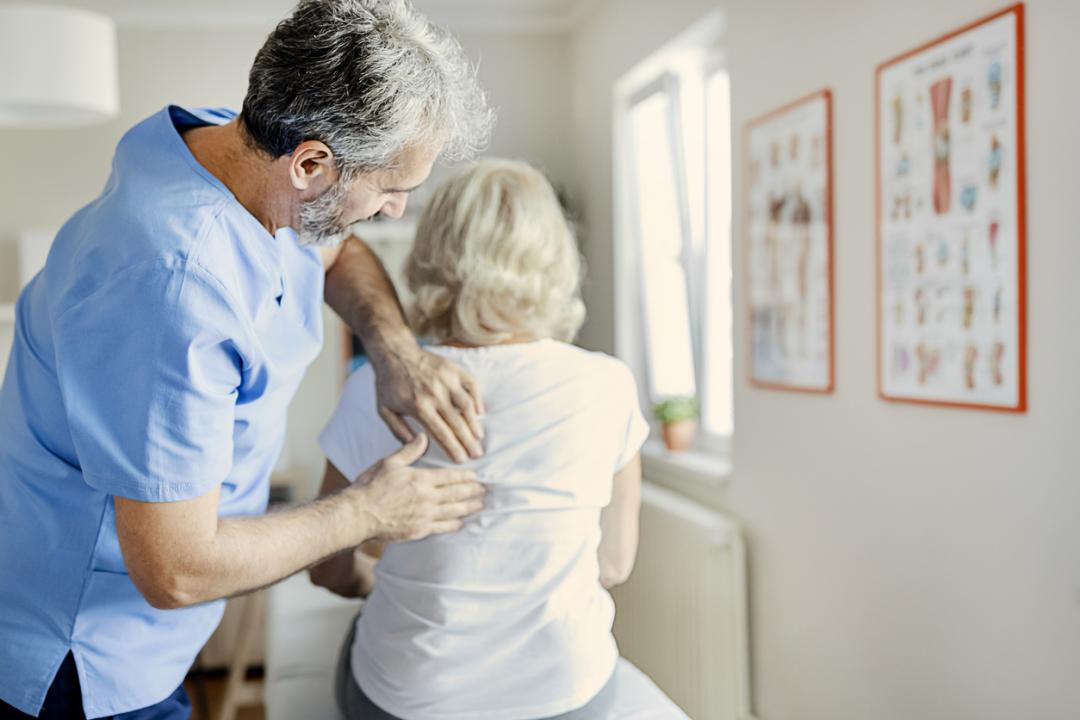 "We need to encourage more awareness amongst both chiropractors and other healthcare providers about how an integrated workforce could benefit both medical professionals and patients alike. In fact, there's only four FCP chiropractors to date, and that's something we're looking to change.
"There are two factors to consider, we need our NHS colleagues to understand the rigour and evidence supporting how the chiropractic profession delivers care and for chiropractors to to see a career in the NHS as an option which will be rewarding. At the BCA, we also recognise that there are hugely varying perceptions of chiropractic care, which we want to address so every health discipline has a consistent understanding. Chiropractic is a registered primary healthcare profession and a safe form of treatment. In the UK, chiropractors are regulated by law through the General Chiropractic Council (GCC) and required to adhere to strict codes of practice, in the same way as dentists and doctors. At the BCA we want to represent the highest quality chiropractic care, which is encapsulated by a patient centred approach, driven by evidence and science.
"As a patient-first organisation, our primary goal is to provide the best treatment possible for those who need our care. We truly believe that working collaboratively with other primary care and NHS services is the way to reach this goal.
"To make this happen, we're focused on driving peer acceptance, trust and inclusion, that will make us part of the wider healthcare team, allowing our members' skill and experience to be recognised and valued by other healthcare professionals who operate in our field."
It's fair to say that health professionals have varying perceptions and understandings of chiropractic care – what's your response to those who may question its credibility? What does the best of chiropractic care look like and why should our readers take this seriously?
"We understand the varying perceptions that health professionals have over chiropractic care and it's our job at the BCA to show that we are a partner with the same vision: to provide quality, efficient and legitimate solutions to MSK conditions.
"A lot of the different perceptions stem from a lack of understanding about what chiropractors do, the training they go through to qualify and the way in which they are regulated. Like all healthcare professions, chiropractic care has evolved in line with evidence, professional experience and the needs of our patients over the years, and the way we work today involves looking after patients to contribute to their health as part of a modern healthcare team. Our educational institutions are engaged more than ever in an integrated approach to the delivery of their courses, and with students from various regulated healthcare profession learning alongside each other, we see a future where these misconceptions are historical.
"Where the right knowledge is missing, there may be an element of fearing the unknown, leading towards negative bias. At the BCA, this is a big focus for us. We're showing other healthcare professionals firsthand about our values and commitment towards improving patient health."
Finally, what's the one takeaway or action you would like our readers to keep in mind this Chiropractic Awareness Week?
"Approach chiropractic care with an open mind and let us show you the level of quality, expertise and commitment that BCA members have to improving the nation's health.
"We're ready to support the wider health community and primary carers, alleviating some of the pressures already facing the NHS by offering our expert knowledge on the MSK conditions affecting 8.75 million individuals.
"We're placed in the perfect position of having the education and experience to support GPs, so my main takeaway from Chiropractic Awareness Week would be to simply start a conversation with us about how!"
The BCA is the largest and longest-standing association for chiropractors in the UK. As well as promoting international standards of education and exemplary conduct, the BCA supports chiropractors to progress and develop to fulfil their professional ambitions with honour and integrity, at every step. This Chiropractic Awareness Week, the BCA is raising awareness about the rigour, relevance and evidence driving the profession and the association's ambition for chiropractic to be more closely embedded within mainstream healthcare.