The healthcare sector is undergoing a rapid digital transformation these days. Due to the pandemic outbreak, care processes are being digitalised, many of their core services are being moved to the online world, and many of our habits are changing irreversibly. We can assume that online meetings will soon become the default option for primary care appointments, paperwork will be replaced by electronic records, patient monitoring will be done remotely, and diagnoses will be made with the help of dedicated artificial intelligence software.
All the above improvements definitely sound tempting. The new solutions can be efficient, secure, and convenient for patients and healthcare staff. They can increase engagement on both sides and, in the long run, fix many of healthcare's current problems. However, are we sure that everything is going in the right direction from a technological perspective?
If we take a look at Forrester's report—"The Covid-19 Technology Priority List For Healthcare Leaders"—we may have some second thoughts. In Q2, Forrester partnered with the Healthcare Information and Management Systems Society (HIMSS) and surveyed healthcare staff to identify which technology challenges should be tackled first.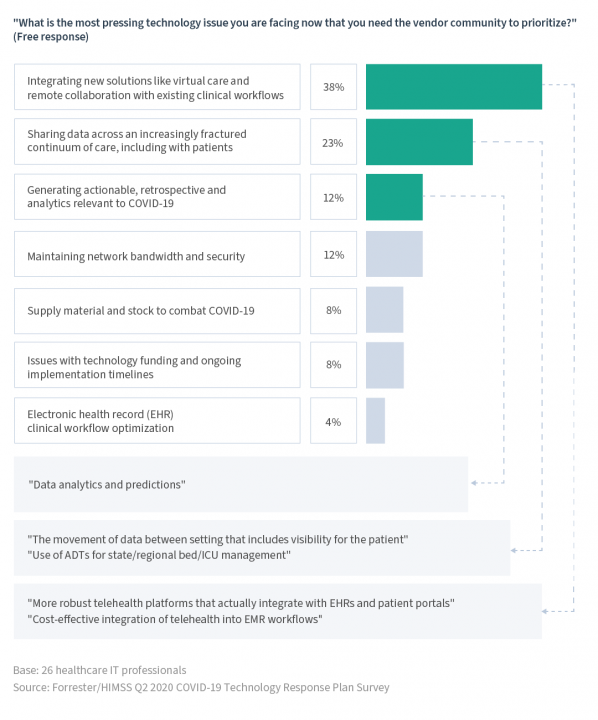 When we look at the list, we may come to a conclusion that the development of new digital solutions can, at times, carry the risk of deepening certain existing problems. How can this be possible? Let's focus on the top challenges from the above list to find out.
Many of the healthcare solutions considered to be the most important weapons in the fight against Covid-19—including e-ICU and virtual care solutions—also happen to cause the most problems, as reported by Forrester.
What does this mean? Many new solutions, including telehealth applications, are currently implemented as peripheral solutions to the existing IT ecosystems and processes. This may force both healthcare professionals and patients to create multiple accounts and log into multiple systems to perform required actions. For instance, one piece of software would be used to access the patients' data and care plans, another to manage the visit calendar, and yet another to arrange and conduct online appointments. Each system would require a unique password (compliant to its own, separate policy). It's easy to imagine the additional time and effort needed to manage the hassle caused by a number of forgotten passwords. All this can lead to an increase in the patients' and doctors' frustration, contribute to miscommunication between the parties, or result in reduced patient engagement.
Furthermore, dispersed patient health information could generate human errors as a result of manually copying the data from one system to another.
When the data is spread across multiple tools and databases, and structured differently in each one of them, it should come as no surprise that advanced analytics may not be achievable. Limited analytics possibilities can impact the diagnosis-making process as well as the understanding of the population's health status in general.
Challenge 2: Sharing Data Across the Fractured Continuum of Care
As Forrester reports, the lack of so-called interoperability between healthcare solutions is currently one of the sector's top challenges.
We've already covered the issue of multiple software types being used at a single location. What's more, patients often visit more than one clinic or hospital and leave pieces of their important health information in different locations and, consequently, in different systems.
As a result, the patients' data is often dispersed across different technology solutions. This makes it difficult to achieve a holistic view of the patients' health—which is an important factor in terms of the quality of care clinicians can provide.
The industry is very complex and many of the solutions available on the market still don't follow the domain standards for the exchange of health data. These standards include HL7 and FHIR, which are already well-known in the market. They are examples of industry-specific data integration standards whose primary purpose is to ensure data interoperability. They can also improve overall data security. Software solutions designed with the interoperability factor in their core can be integrated not only across a single healthcare organisation but also across multiple locations and platforms.
If a healthcare organisation decides on a new digital solution that does not follow these standards, it needs to be aware of the risk. Namely, that it may not be possible to exchange data with other software types or their components, e.g., the electronic patient health record.
Moreover, this may also result in vendor lock-in. The organisation becomes strongly dependent on one vendor and is unable to use another vendor's software without substantial cost alterations in the future. 
Challenge 3: Generating Actionable and Preventive Analytics for Covid-19
According to Forrester, actionable analytics are the third most significant technology challenge HCOs are looking to solve during the pandemic. All across the world vendors are requested to provide helpful reports and analytics that are relevant to Covid-19. This is an understandable need as the whole world is focused on fighting the virus. As such, the collected information should give us a clear overview of the status quo and what actions should be taken to overcome the pandemic.
The Covid-19 outbreak proved how important it is to have a common source of data and how difficult it is to conduct valuable analytics on incomplete datasets. The healthcare sector already generates enormous volumes of medical data, e.g., patient history, measurements, symptoms, diagnoses, and prescribed treatment. If we go beyond healthcare itself, the amount of data is even greater. Wellbeing apps and wearable devices produce and store yet another terabyte of data. They can provide additional insight into the population's health as well as help with diagnosing and setting up treatments.
Actionable analytics are especially important in the healthcare sector where one wrong decision can have serious consequences for individuals and even entire communities. There are three key aspects in actionable analytics: data availability, data querying, as well as quick and easy access to results. Can all the gathered data be analysed promptly during a medical appointment or surgery?
Even if systems or healthcare professionals have access to a complete set of patient data, sometimes a lot of additional factors need to be considered. Their number may be too great for a single system or person to process, especially in extreme situations like accidents.
This is where advanced analytics mechanisms like AI can help make the data actionable. Datasets will grow and stored data will be more sophisticated and detailed. The more data you acquire and store in old-fashioned systems, the bigger a problem you may have in the future.
Therefore, it's worth checking if your data-based solution ensures data model completeness and standards. If it doesn't, think about the digital change that will enable advanced analytics in the future. External systems are already being used to analyse data, and AI solutions will be able to interact with them.
This past year the healthcare industry has had to face many new challenges and actively look for new ways to address them. It's important to assess the potential impact of these issues to prioritise the development of possible solutions. If you'd like to learn more about how the above challenges can be tackled with the use of the right digital approach, read Objectivity's The Top 3 HCO Technology Challenges & How to Solve Them.
Words provided by Objectivity, editorially reviewed by National Health Executive