The next generation of healthcare professionals are set to benefit from a ground-breaking partnership that is set to mould the future of the NHS workforce in the North East of England.
The collaboration will see Northumbria Healthcare NHS Foundation Trust and the University of Sunderland develop a suite academic programmes and apprenticeships, all geared towards expanding skillsets and widening knowledge breadth.
The alliance is just the second of its kind in the country and the first in the North East region.
Given recruitment and retention is a key issue within the health service currently, Northumbria Healthcare says the move is in support of the organisation's agenda to nurture its own talent.
Future plans for this line of action chiefly lie at the £32m Northumbria Health and Care Academy which started construction last summer. With it scheduled to open by spring 2024, the academy will focus on training nurses, midwives and allied health professionals.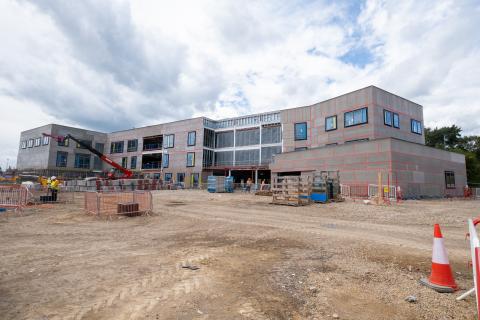 Northumbria Healthcare's executive director for nursing, midwifery and allied health professionals, Marion Dickson, said that, together, the new partnership and facility represent a "real step change" in the training of local clinicians.
Opportunities at the academy will include a top-up degree for diploma qualified staff, an enhanced practice masters-level qualification, a range of bespoke training programmes which, subject to approval from the Nursing and Midwifery Council, will encompass nursing associate, non-medical prescribing and truncated nursing apprenticeships leading to registration.
Once fully operational, local health leaders want the academy to house two cohorts of 35 trainee nurse associates every year.
An impressive track record of delivering innovative healthcare education and blended learning initiatives was cited as the reason the NHS selected the University of Sunderland as its partner for this project.
Sue Brent, who is the head of the university's school of nursing and health sciences, echoed Dickson's sentiment, further adding that this "innovative approach" to workforce training will ensure staff have access to high-quality education and state-of-the-art facilities.
Image credits: Northumbria Healthcare NHS Foundation Trust