A new fluid management system for gynaecological minimal access surgery promises to revolutionise treatment of uterine disorders. Consultant obstetrician and gynaecologist Chris Lindley explains.
Q: What has changed in the field of gynaecological procedures over the past few years?
A: With waiting lists around the country causing huge pressure on many hospital departments, there's been a definite shift to doing as many outpatient procedures as we can, seeing and treating patients quickly and getting them home as safely and as fast as possible.
Q. What changes in the way that you work have made that possible?
A. In recent years, the hysteroscopic tools doctors and nurses use to visualise and operate within the uterus have improved immensely. The patient benefits from coming into an outpatient setting, rather than facing an operative procedure under general anaesthetic as it saves them (and us) time and improves their overall experience. It is also a much better use of stretched hospital resources.
Q. How important is fluid management in hysteroscopic procedures?
Diagnostic and operative hysteroscopy involves the use of plenty of fluid to enable distention of the uterine cavity for precise viewing. Fluid is also needed to get rid of blood and tissue debris. However, until recently, fluid overload (where a patient absorbs an excessive amount of fluid) has occasionally led to serious problems and the need to prematurely cease a procedure. However, Hologic's Fluent® Fluid Management System, a new, automated platform that has been launched in the UK over the last couple of years, seems to be a real game changer in fluid management, making the whole hysteroscopic process safer and more efficient.
Q. What makes Fluent so effective?
A:  Fluent Fluid Management System allows measuring and monitoring of fluid in the uterine cavity to be automated in a far simpler and more accurate way, often leading to less fluid being used and helping to avoid fluid overload. Initial feedback from my team using Fluent is that they've found it easier to operate than previous fluid management systems. It also provides a better view of the uterus, a faster procedure and fewer incomplete operations.
Q. How quickly can clinic staff get up to speed with Fluent?
Fluent is simple to learn how to use, setup and manage. We are experiencing a high turnover of staff at the moment and rely on in-house bank HCAs as support for the trained nurse in clinic. Due to the simplicity of Fluent, bank staff can pick up what to do within one or two cases and this takes strain and pressure off the trained nurse.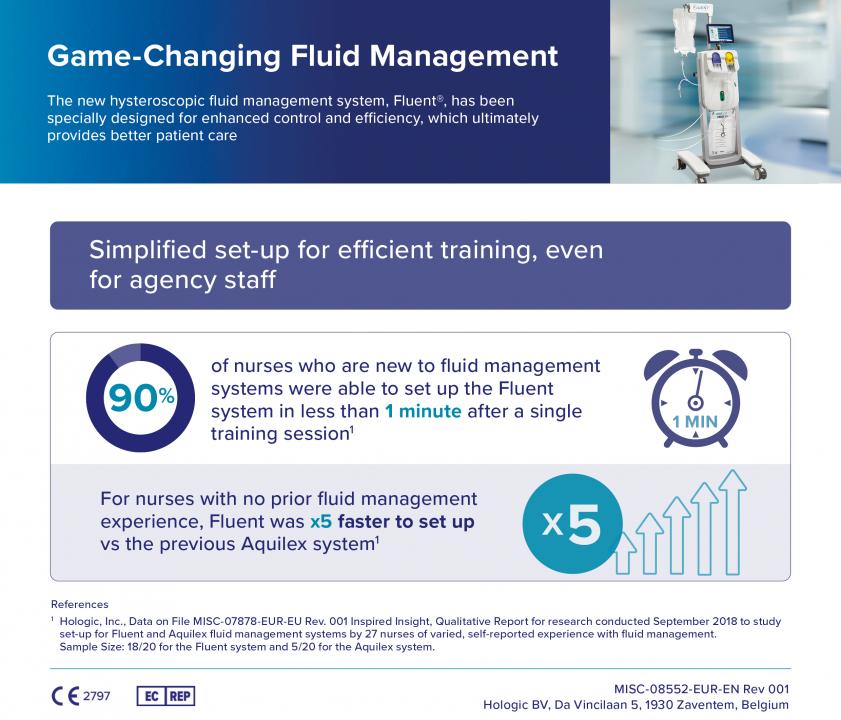 Q. How much time does Fluent save in the clinic?
A. In addition to the fast set-up time, Fluent's user interface is very intuitive and makes it easy to have precise control over fluid monitoring in the uterus during hysteroscopy. This, added to a much-improved waste management design which reduces clean-up time, means there's a much faster turnaround to the next patient. We also save time and resources by completing more procedures in one appointment, avoiding the need for extra procedures and appointment slots due to cases of fluid overload.
Q. What is your overall impression of the benefits of Fluent?
A: It's a very well thought out product with clear advantages over what we've used in the past. It saves a significant amount of time in outpatient clinics, maximises hospital resources and reduces anxiety and stress in patients having to face the prospect of an invasive procedure. The quicker and more safely we can get them through it, the better.
Find out more here.