When faced with mounting stockpiles of hazardous clinical waste, a global pandemic, and a waste treatment infrastructure that couldn't cope with the high volumes, it became clear to the healthcare industry that change was crucial.
Sharpsmart responded in 2019 by taking a proactive approach and developing a novel solution to meet the immediate needs of the NHS – transforming sharps waste treatment.
The Healthcare Industry Faced a Challenge
For decades, fossil fuel-powered high-temperature incineration has been the industry norm for sharps waste – a carbon-intensive process with limited capacity due to ageing infrastructure.
By 2019, the struggling clinical waste incineration infrastructure was making it difficult for healthcare professionals to provide the level of care that was needed.
The sudden exit of Healthcare Environmental Services Limited in 2018 had triggered a healthcare waste crisis, resulting in thousands of tonnes of sharps and clinical waste destined for high-temperature incineration being stockpiled across the UK.
This waste was taking up valuable space on hospital sites, waste treatment facilities, and transfer stations.
Meanwhile, waste was being continually generated.
Just as the stockpiled waste was making its way back into circulation, the COVID-19 pandemic struck, causing a dramatic increase in clinical waste volumes – leaving many healthcare providers inundated with sharps and clinical waste and no outlet for disposal.
This is where we came in to work out a solution.
The Difficulty of Finding a Solution
We knew that we needed to take action to meet the needs of the industry and overcome the mounting challenges being faced country-wide, but as an environmentally driven company that holds true to its foundational values, endorsing high-temperature incineration as the only solution wasn't an option.
Our company was founded on innovation to meet the immediate needs of the healthcare industry – we needed to return to this.
To overcome the many arising challenges, we set about designing a system that could treat the majority of sharps waste produced by our 100-plus hospital partners, as well as support them on their route to Net Zero.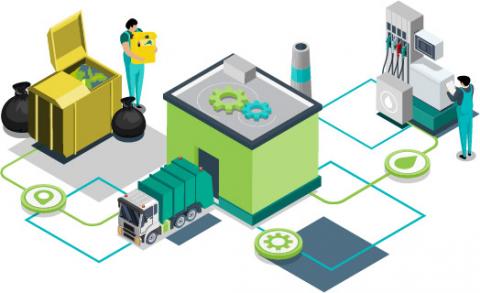 A Unique Pre-Treatment Process
The solution we developed is our patented Effluent Retention System – a unique pre-treatment process for medicinally-contaminated sharps waste that renders it non-hazardous and validates it for alternative treatment as a solid recovered fuel (SRF).
It's a closed-loop process that uses shredding, sterilisation, and a unique Effluent Retention System to ensure there's no discharge of effluents to air or sewer throughout treatment –
The Effluent Retention System (ERS) merges environmental responsibility with healthcare efficiency and compliance with the capability of treating over 2 tonnes of hazardous sharps waste per hour.
Since we got our Effluent Retention System up and running in December 2019, we've processed over 8,300 tonnes of sharps waste, helping our healthcare partners to:
Significantly reduce carbon emissions.
Have peace of mind with a guaranteed sharps waste outlet.
Divert high volumes of waste away from high-temperature incineration.
Meet and exceed the 20-20-60 waste split set out in the Clinical Waste Strategy.
The benefits of this system are redefining the industry and significantly reducing carbon emissions compared to traditional treatment methods – aligning harmoniously with NHS targets and the Clinical Waste Strategy.
Our ongoing investment into sustainable solutions is paying off and Sharpsmart is now in the position of providing the world's safest sharps waste containment system, and the most environmentally-friendly treatment solution for sharps waste.
And the truth is, you can't get either of those things anywhere else.
Our Effluent Retention System In Detail
Would you like to know more about our unique sharps waste treatment process?
We recently released a paper that covers our patented Effluent Retention System in more detail. It includes calculations of the carbon footprint when compared with traditional treatment methods, and more insight into how the treatment process works.
The Effluent Retention System: A New Era in Sustainable Sharps Waste Treatment, can be accessed by visiting this link.
Useful Links:
The Effluent Retention System: A New Era in Sustainable Sharps Waste Treatment