Sunderland Royal Hospital has introduced GlobalView Systems' MyPorter task management software system to support the Portering function in its Radiology department.
City Hospital Independent Commercial Enterprises (CHoICE), a wholly owned subsidiary company of South Tyneside and Sunderland NHS Foundation Trust, worked with GlobalView Systems to review the available options to improve the management of Portering within Radiology and the Facilities Management team made the decision to install the MyPorter porter task management solution.
Radiology is used to diagnose and treat various medical conditions and diseases and the timely flow of patients to and from the department is vital to make best use of clinical time and high-value equipment, as well as being central to the patient experience. MyPorter has made it easy to monitor the status and progression of Portering tasks, and improved communication and cooperation between the Portering and radiology teams, in turn improving patient flow.
The system also helps to identify, and plan for, peaks in demand. Mark Turner Portering and Security Manager, CHoICE Facilities Services commented; "Not only does MyPorter give us the information we need to manage tasks effectively as they happen, it also gives us insight to help us plan for the future. We have the means to easily monitor, measure and report on performance, and the hard data to make sure we have the right amount of staff in the right place at the right time."
Sunderland Royal Hospital's Radiology department requires an average of 150 Portering tasks a day. These were being managed by displaying hard copy print outs of tasks on a board, from where porters would then choose a task to complete. This meant there was no way of tracking tasks once they had begun, and made it difficult to establish Key Performance Indicators, such as time taken to complete a task. It also made it more difficult for the two departments to work together efficiently.
With the introduction of MyPorter, the Radiology department can now communicate quickly and easily with porters wherever they are in the building via a digital radio system. Tasks are automatically allocated, and sent as messages to the porters' radios, and the system gives real time visibility on job status. Portering requests can be made and responded to much faster, and MyPorter's automatic allocation functionality (or allocated via a Helpdesk, if preferred) also ensures task distribution is process-driven and fair. Both workflow and working culture have improved as a result.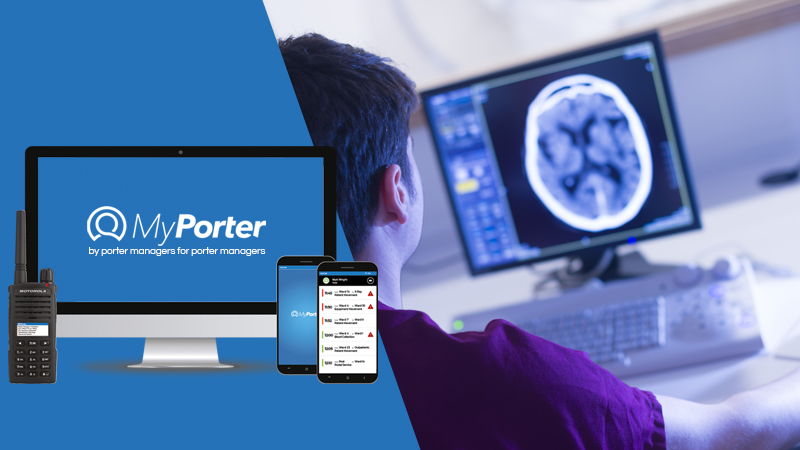 Richard Iveson at GlobalView Systems explained; "MyPorter was developed by porter managers, for porter managers, which is one of the many reasons the system is so effective. Systems are designed around the needs of the people using it, rather than the buildings they work in. For example, MyPorter can operate using smart phones or digital radios, depending on the connectivity available, meaning Trusts can choose the infrastructure that works best for them, their staff and processes. We're delighted that CHoICE has chosen MyPorter, and that it is seeing such positive results within just a few weeks of installation."
Management reports can be quickly and easily configured according to the needs of the individual trust, hospital and department, reducing the demand on management time and providing objective data to support service delivery and development. The system gives insight into performance that wasn't previously possible, which can inform changes to service delivery to increase efficiency and capacity, such as adjusting shift patterns.
Claire Dodds, Hotel Service Manager, CHoICE Facilities Services commented; "We needed something we could rely on, and MyPorter has given us exactly that. Porters, radiographers and nurses have all said the system is easy to use, and we've had no failed jobs since it was introduced. It's also made a massive difference to patient flow and the overall patient experience."
CHoICE Facilities Services is currently working with the Trust to explore expanding the use of MyPorter across the site so other areas of the hospital can also benefit.