Marking International Men's Day yesterday, the Department of Health and Social Care announced a new trial that will benefit hundreds of thousands of men across the country that are at risk of prostate cancer.
As the government collaborates with Prostate Cancer UK, £42 million worth of funding is being committed to deliver the biggest prostate cancer screening trial in decades. The TRANSFORM trial will use innovative methods to try and detect prostate cancer in thousands of men before it has the potential to spread further and risk their lives.
The most common cancer in men in the UK, and currently without a screening programme, prostate cancer has no symptoms until is has grown, with this making it more difficult to treat, unfortunately leading to the deaths of 12,000 men every year. This new trial will make testing more accurate than the current blood tests that are in use, with these occasionally missing some cancers, or suggesting prostate cancer when there is no cancer at all.
Victoria Atkins, Health and Social Care Secretary, said:
"Cancer survival rates continue to improve in the UK, with the disease being diagnosed at an earlier stage more often. But more must be done.
"Our hope is that this funding will help to save the lives of thousands more men through advanced screening methods that can catch prostate cancer as early as possible."
Another factor that will be included in the trial, is the fact that one in four black men will develop prostate cancer, with them facing double the risks faced by other men. Due to this, one in 10 of the invited participants for the trial will be black men. With the age range for participants being 50-75 years old, the age range for black men will also be expanded to 45-75. Males who are at an increased risk due to age or ethnicity are to be recruited by their GP and invited to a screening visit.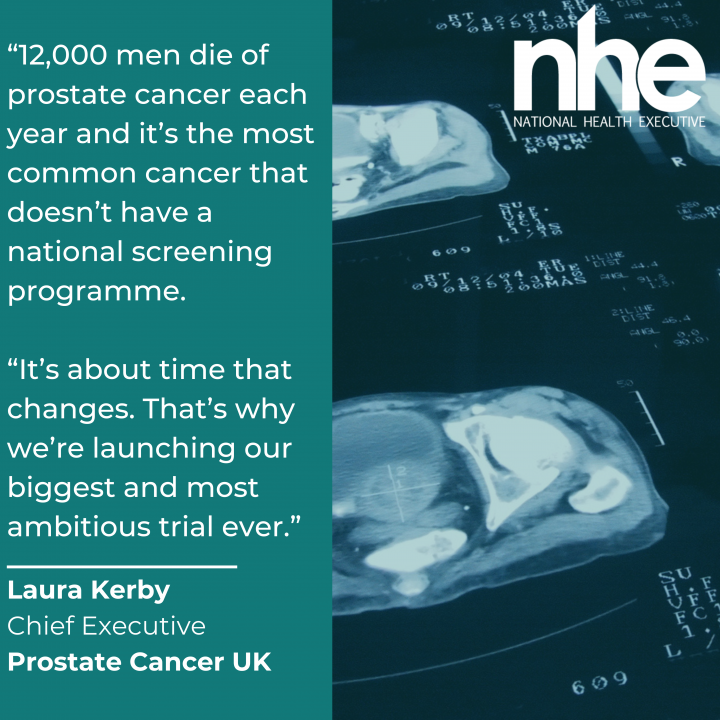 Prostate Cancer UK's Chief Executive, Laura Kerby, added:
"12,000 men die of prostate cancer each year and it's the most common cancer that doesn't have a national screening programme.
"It's about time that changes. That's why we're launching our biggest and most ambitious trial ever. It will finally give us the answers we need to develop a routine testing system and save thousands of men each year.
"Prostate Cancer UK's unique focus and expertise made us the only organisation that could really deliver this paradigm-shifting trial, and we're delighted that the government has backed our vision to revolutionise diagnosis."
The government will be investing £16 million into the trial through the National Institute of Health Research, whilst Prostate Cancer UK will commit £26 million into the project that will begin in Spring 2024, with recruitment starting in Autumn 2024.
Chief Executive of the National Institute for Health and Care Research Professor Lucy Chappell also commented:
"New research into harnessing innovative screening methods is crucial in finding ways to detect this serious disease earlier, in the race against time to save lives.
That's why setting up this landmark new trial in partnership between NIHR and Prostate Cancer UK is so important.
"Together we can aim to generate high-quality long-term evidence to benefit men at risk of developing this condition, and to inform those who plan and deliver NHS services of how to test for the disease."
Image credit: iStock