A game-changing demand and capacity modelling tool has been launched by Lexica, a leading UK specialist consultancy which supports health and life sciences organisations both in its home market and internationally. Designed to take the guesswork out of healthcare planning, the new dashboard-based modelling tool allows quick and interactive insights into the current and future activity and capacity requirements of NHS Trusts.
Cost effectively maintaining service levels in industries with highly variable demand, such as healthcare, is an ongoing challenge for many Trusts. Lean management and agile approaches to working can improve efficiency, but managers need innovative software to help them meet this challenge including responding to the government's recently announced intention to expand bed capacity by next winter. Importantly, Lexica's Demand and Capacity Modelling tool enables NHS Trusts to:
- View multiple years of historical data by site and interact with the dashboard to understand the current demographic and case mix of their activity
- Manipulate operational parameters, including bed occupancy, theatre utilisation and opening hours to understand the impact these have on capacity requirements
- Explore how demographic growth may impact future demand and capacity requirements, and
- Prevent growth in patient backlogs by ensuring that future capacity will meet current unmet obligations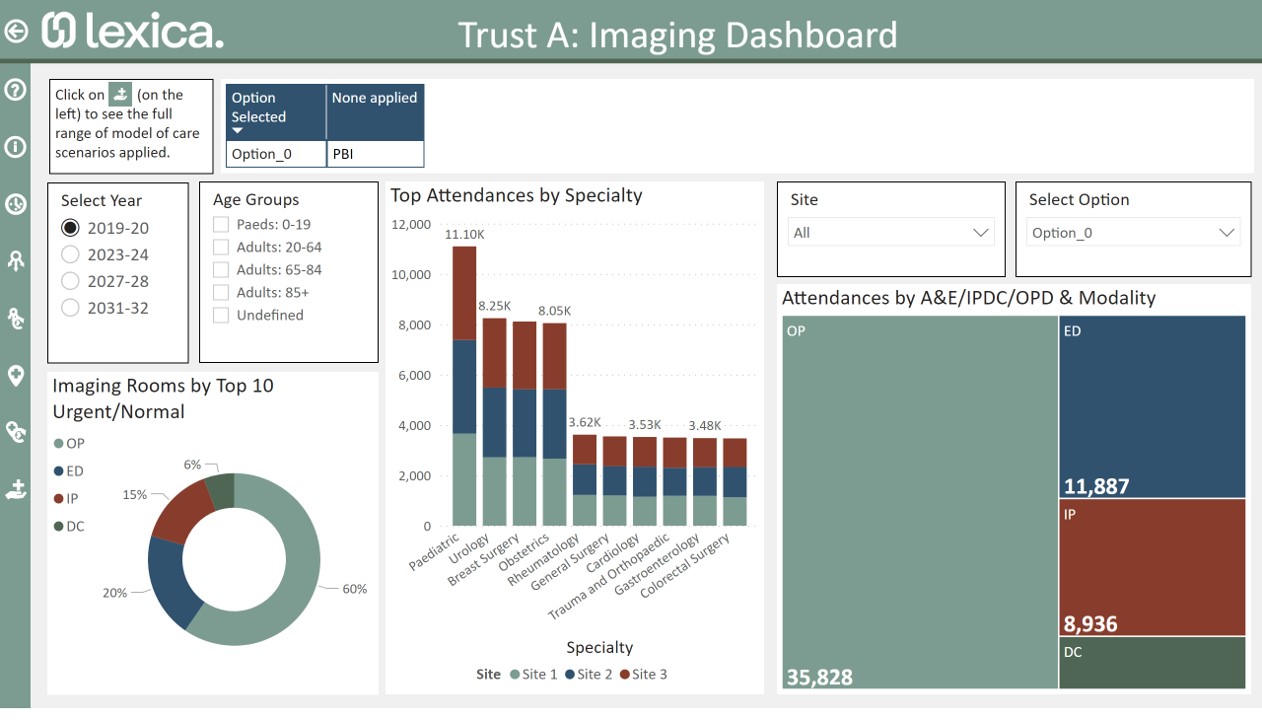 Imtiaz Bala, Director, Healthcare Strategy and Planning at Lexica, commented: "Our new modelling tool is a game-changer for NHS Trusts because for the first time many C-suite executives, including Directors of Finance, Strategy, Operations, and HR, will be able to accurately forecast future activity and plan for capacity requirements. Whilst this data may exist within a Trust, it is often fragmented and piecemeal.
Consequently, it can take many months and a lot of resources to assimilate and analyse. Lexica's Demand and Capacity Modelling tool simplifies this process reducing costs and vastly improving healthcare planning."
At launch, the dashboard tool can be used to model the capacity and demand for Inpatient and Day Case departments, the Outpatient department, and Operating Theatres. Being able to increase operational capacity for NHS Trusts and Integrated Care Boards (ICBs) during peak times, such as flu season or a new Covid-19 variant, is vital for improving operational resilience.
Further additions are planned for the platform in 2023 to extend its scope and usability. The Emergency Department (ED) module will be the first of these new enhancements incorporating complex arrival time-series analysis and optimisation of waiting and treatment times to determine peak ED capacity requirements. Lexica is already in discussions to use this platform with international healthcare organisations to enable rapid prototyping and scenario analysis to resolve complex and time sensitive capacity issues.
"Once an NHS Trust or ICB provides us with its activity dataset, the dataset is processed and the interactive dashboard is generated," explained Imtiaz Bala. He added: "The dashboard can also be shared with specified users within a Trust or ICB who can interact with the output and change certain operational parameters. This means that a collaborative and inclusive approach can be taken to developing scenarios and helping to future-proof the organisation."
NHS Trusts and ICBs are invited to arrange a demonstration of the new dashboard. For further information please contact Imtiaz Bala via email: [email protected]