The government will meet its target to open 160 community diagnostic centres (CDCs) a year early, the Health and Social Care Secretary has announced.
All 160 centres will be open by March 2024, a year ahead of the original March 2025 target. This will speed up access to potentially lifesaving tests and checks for patients across England.
The CDCs offer a wide range of diagnostic tests closer to home, including CT scans, MRI scans, ultrasound checks, and blood tests. They also provide greater choice on where and how patients are treated, reducing the need for hospital visits and helping them to receive potentially life-saving care sooner.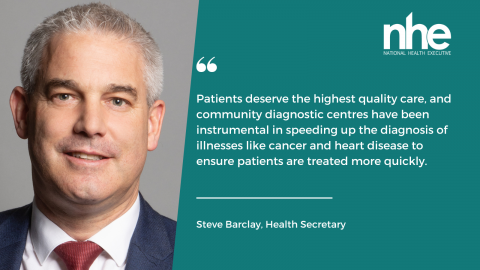 The programme constitutes the largest central cash investment in MRI and CT scanning capacity in the history of the NHS and has already delivered more than 5 million additional tests, checks and scans across the country. The new centres will provide capacity for 9 million more by 2025 as part of the NHS and government's plan to recover services following the pandemic.
Health and Social Care Secretary Steve Barclay said: "Patients deserve the highest quality care, and community diagnostic centres have been instrumental in speeding up the diagnosis of illnesses like cancer and heart disease to ensure patients are treated more quickly.
I'm delighted we will open 160 CDCs a year early, allowing greater access to high tech scans and diagnostics in communities across England.
This has been made possible by using all capacity available to us and drawing on the independent sector - helping us to cut waiting lists, one of the government's top 5 priorities."
The government has also announced 3 of the final locations which will serve tens of thousands of patients, with all set to open in December 2023:
Queen Mary's Sidcup CDC - based in south-east London, the facility will offer CT, MRI and ultrasound checks, along with blood tests - providing at least 58,000 additional checks once fully operational

Halifax CDC - based at Broad Street Plaza shopping centre in the Yorkshire town, this CDC will offer ultrasound checks, blood tests and heart scans - delivering at least 90,000 tests once fully operational

Chichester University CDC, Bognor Regis - this facility will offer CT and MRI scans along with ultrasound checks and blood tests to patients, and deliver at least 18,000 additional tests once fully operational.
In total, 13 of the CDCs are led by the independent sector, with 8 of these already operational. There are a further 22 CDCs located on the NHS estate where the independent sector is providing diagnostic services.
Photo: Istock