Kingston Hospital NHS Foundation Trust has purchased two specialist scopes for its Endoscopy Unit, with the support of Kingston Hospital Charity. The scopes enable specialist clinicians to carry out Endoscopic Retrograde Cholangiopancreatography (ERCP) – a highly complex procedure which is used to treat patients with jaundice – either due to pancreatic cancer or a stone obstructing the bile duct.
The new scopes will allow Kingston Hospital to offer ERCP procedures on-site, without delay. This is a significant improvement for patients, as previously they would have to be transferred to St George's Hospital for the procedure. The new equipment will also allow Kingston Hospital staff to be trained in this complex procedure, further improving the quality of care that can be offered to patients.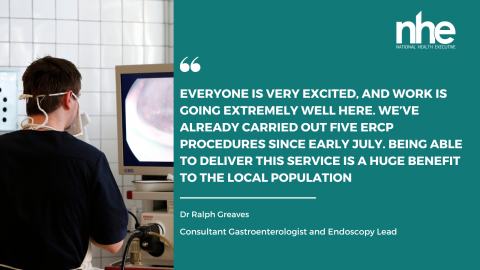 Dr Ralph Greaves, Consultant Gastroenterologist and Endoscopy Lead at Kingston Hospital's Endoscopy Unit, said: "We are delighted to be able to offer ERCP procedures on-site at Kingston Hospital. This is a significant improvement for patients, as it will mean that they can be treated more quickly and easily. I would like to thank Kingston Hospital Charity for their generous support in making this possible."
The new scopes are a vital addition to the Endoscopy Unit at Kingston Hospital, which was opened in September 2020. The unit provides a range of endoscopic procedures for patients with digestive conditions, including gastroscopy, colonoscopy, and ERCP. The new scopes will allow the unit to offer a wider range of services to patients, and to provide more complex procedures on-site.
Kingston Hospital Charity is a registered charity that raises money to support the hospital and has funded a refurbishment to the neonatal unit, and equipment for the Colposcopy unit in the last two years.
The charity's funding has helped to purchase the new scopes, as well as other equipment for the Endoscopy Unit.
Photo Credit: Istock