As the NHS adapts communal patient and visitor spaces for safe social distancing, Tritonshield's clear vinyl screen concept has already been installed across several NHS trusts in the North West to provide a 'barrier' between the bed spaces allowing them to utilise all available bed spaces whilst meeting Covid-19 protocols. 
The Tritonshield 'floor to ceiling' screens have been developed and modified through feedback from clinicians, patients and infection control specialists. Over 400 clear and privacy screens have now been installed into most hospital areas including renal wards, neonatal wards, children's wards, theatre recovery, radiology, and hospital waiting areas.
The screens operate with a zero touch wand operation headrail system reducing the viral load and are easy to remove for deep clean and replacement.
Greg Sunderland, Developer and Owner of the Tritonshield screen technology said: "The pandemic has highlighted how rapidly an infection can spread, and the screens we've been installing drastically help to reduce the viral load and is welcomed by patients, staff and visitors.
"Moving forward I'm hoping to work with many more NHS trust teams to support them in creating safe spaces for patients, staff and visitors. Having worked so closely with staff across all wards I'm convinced that the installation of the screens will be commonplace across all healthcare environments, almost like putting on a car seatbelt.
"If the right safety equipment is in place, you reduce your risk."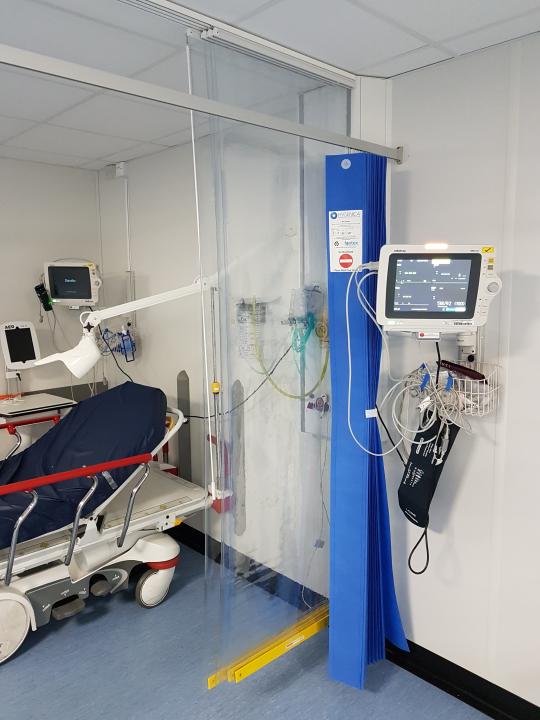 Tritonshield screens fully retracted when not in use, allowing quick and immediately access to patients.
One NHS trust using his solution is Southport and Ormskirk NHS Trust.
Trust Estates and Facilities Matron, Claire Beck explained: "From a patient experience perspective the screens provide the necessary barrier between patients' bed spaces whilst allowing visibility and protection.  The screens allow staff to fully observe patients at all times.
"Another really helpful feature of the Tritonshield screens are that they can be fully retracted when not in use and used in conjunction with existing curtains for maximum flexibility of protection and privacy"
Greg O'Neill, Head of Programmes, Elective Care for Southport and Ormskirk NHS Trust added: "The screens sit neatly alongside the existing privacy screens and allow the clinical staff to manage and reduce risk whilst at the same time providing reassurance for patients and their families - helping them to feel as safe as possible whilst in the hospital."
The ceiling to floor Tritonshield screens complement the existing curtain track to allow ease of installation, operate with a wand operation headrail system and are easy to remove for deep clean and replacement.
To find out how the Tritonshield screen installations benefitted the teams at Southport and Ormskirk NHS Trust visit:  https://www.tritonpeak.co.uk/ or call 0800 180 4277 for more information.