The UK's first evidence-based postvention guidance specifically to support NHS professionals following a colleague's death has been published.
Postvention refers to the interventions delivered to people after they have been affected by a suicide.
The publication follows a two-year study conducted by researchers from the universities of Surrey, Keele and Birmingham which explored how a colleague's suicide impacted NHS staff and their needs thereafter.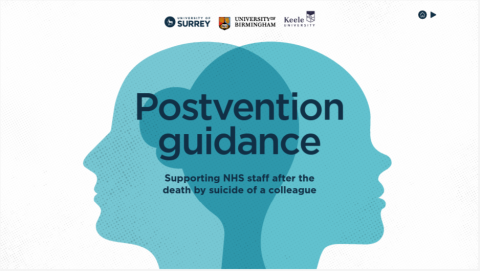 One of the key takeaways from the research was how current guidance did not account for the unique aspects of NHS culture and has ultimately fallen short of staff needs.
"This guidance is designed to help all NHS Trusts deliver compassionate, targeted and timely support that will serve as a protective factor for staff members who are affected by the death by suicide of a colleague," said Dr Ruth Riley, principal investigator and one of the lead authors of the guidance.
Dr Riley, who is also a senior lecturer at the University of Surrey's School of Health Sciences, continued: "Robust postvention not only supports and protects staff, it also protects the patients, people and communities that they serve."
The guidance has been designed specifically for both those delivering and receiving the postvention support. During its development, the research team reviewed existing literature, conducted in-depth interviews with staff affected by suicide, and led a stakeholder workshop.
"This guidance is a call to action for all of us," said Christina McAnea, the general secretary of UNISON, which supported the development of the guidance. "Everyone must work together to break down stigma around suicide, and ensure staff receive compassionate support and time to grieve."
More information the guidance is available here.
Image credit: iStock