The University College London Hospitals NHS FT (UCLH) have launched their 10-point plan to help reach net zero by 2031, describing the current situation as a climate and health emergency.
UCLH's 10-point plan aims to cut energy emissions by 80% by 2025 and create the first net zero hospital. It is expected to be achieved through only using renewable electricity.
The trust have already switched their energy provider to a sustainable organisation. Other initiatives have also included installing solar panels throughout their hospitals, as well as LED lights at five sites, with more sites to benefit in the coming months. The new lights use 70% less energy than the current lights, which saves more than 1,200 tonnes of CO2 every year.
The 10-point plan builds on from the progress made, following the launch of the UCLH's Green Plan in 2020. The plan has seen an investment of more than £2.5m, in a programme to:
install low energy LED lights,

switch to sustainable electricity and recycled paper,

reduce patient journeys by 50%,

reduce the use of the most harmful anaesthetic gas by 90%, and

engage staff to take part in climate action schemes.
Luke O'Shea, UCLH' Director of Innovation, said: "The climate is changing and sadly time is running out to act. It is staggering to think that 19 of the last 20 years have been the hottest on record. The NHS creates 40% of public sector emissions, and 5% of the UK total. Spurred on by the NHS's drive to reach a net zero target by 2040 and an 80% reduction by 2028 to 2032, we at UCLH have a plan, but will go further and faster, aiming to be net zero within ten years - by 2031.
"The plan aims to give clear focus to practical, achievable things we can do now that will have a major impact on our footprint. Some of these 10 action points will also save the NHS money, for example LED lights pay back in under three years, waste is a huge cost to trusts, and solar panels will become income generating in around 10 years."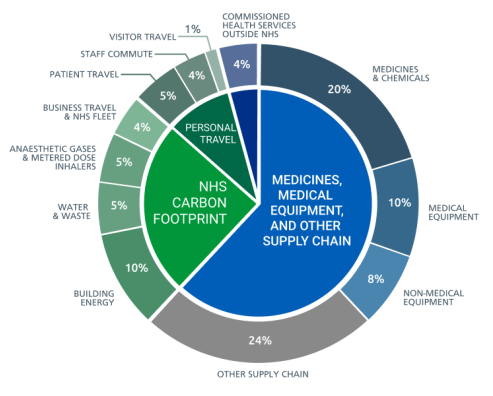 (Diagram taken from p13 of the NHSE report)
Global Action Plan and Camden Council are also helping the trust improve the air quality, through implementing green travel workshops with staff, highlighting alternative transport options such as using public transport and walking or cycling, instead of driving.
The trust recently took part in the recent pedometer challenge, which focussed on promoting green and active travel amongst staff. UCLH also set up a regular bike user group to promote cycling. Staff will be regularly surveyed to ensure more are cycling, walking, or using public transport, with fewer relying on private cars.
Staff can also benefit from two programmes – signed up by the trust – which reward staff for their involvement in green initiatives. There have already been 17 teams who have signed up so far, with aims to increase this with added engagement.
Patient travel rates have been cut in half following the launch of video and telephone clinics, which has saved more than 14 million miles of travel a year. UCLH hope to continue with video clinics, with the goal of maintaining 50% of appointments virtually.
UCLH are also reducing the number of plastics in use at the hospital, including encouraging patients and staff to stop using polystyrene cups, and to bring in reusable ones. Staff at the hospital previously ordered 2,000 polystyrene cups per month, but the order has now been replaced by 1,000 paper cups, with the desire to decrease this further.
Luke O'Shea, UCLH' Director of Innovation, explined: "The environmental challenge is huge, and while we are making good progress, all NHS trusts will need more help to get to net zero, such as ongoing capital investment in decarbonisation. But what is clear to me is that UCLH staff are passionate and motivated to make significant change, and with their support I feel we can make great progress in the coming years.
"But more widely, the leadership shown by the NHS on the Climate and Health Emergency, could spark other industries and health organisations across the world to take the necessary action."
The trust is already on course to reach their current recycling target of 80% by 2025. Another major change includes the removal non-recycled paper. UCLH previously used 7,000 boxes of paper a year. The change to recycled paper is expected to save 272 trees per year.
You can join a wide variety of healthcare professionals at NHE's Net-Zero NHS event on 25 August. Register for the event here.