Wirral University Teaching Hospital NHS FT (WUTH) is the first trust in the UK to use an innovative system to aid the diagnosis for patients with potential prostate cancer.
The state-of-the-art ultrasound system is more likely to give a decisive result from the patient's initial biopsy procedure.
This helps reduce the time taken to investigate the biopsy, which prevents patients from having to go through many further invasive procedures to reach a diagnosis.
This is because the new system provides high resolution, real-time imaging that enables more accurate targeting for biopsy of suspect areas of tissue within the prostate gland.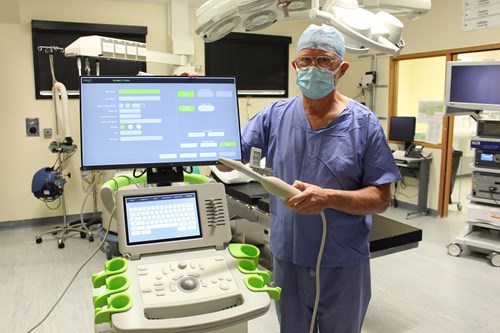 Caption: Nigel Parr, Consultant Urologist at Wirral University Teaching Hospital, with the ExactVu machine.
Nigel Parr, Consultant Urologist at WUTH, said: "We are pleased to be the first hospital in the UK to have the ExactVu imaging system which aids in the diagnosis of prostate cancer.
"With 300 times greater resolution than the current generation of scanners, we can now precisely target small areas of tissue, so only 3 or 4 core samples are needed to identify whether the patient has a tumour and to determine if it is relatively slow growing or a more aggressive type.
"Without this technology, around 1 in 5 biopsies need repeating to confirm the correct diagnosis.
"Having greater accuracy in taking samples and needing fewer repeats means that patients can be diagnosed more quickly and managed appropriately at an earlier stage, which should mean a better outcome for them."
"The earlier a diagnosis of significant cancer can be made the far better this is for our patients."
The new system uses an MRI image of the patient's prostate which shows the abnormal areas of tissue, and this is combined with the live ultrasound image, enabling the operator to precisely focus and take the samples needed for examination.
Without the accuracy provided by this system, up to 25% of biopsies can also potentially miss suspicious areas.
Dr Nikki Stevenson, Medical Director and Deputy Chief Executive at WUTH, added: "The earlier a diagnosis of significant cancer can be made the far better this is for our patients.
"It is brilliant that we are using the latest technology so we can improve care for our patients and offer them a far better experience."
The new system was funded by the Merseyside & West Cheshire Prostate Appeal.
The appeal to support minimally invasive treatments for prostate cancer, was set up by Mr Parr 14 years ago.