Gloucestershire Royal Hospital (GRH) has become the first NHS hospital to start an upper GI programme with a new surgical robot, and will soon start a multi-specialty programme including colorectal surgery.
GRH is part of Gloucestershire Hospitals NHS FT, which runs Gloucestershire Royal and Cheltenham General Hospitals. They installed the technology in order to build on its vision to be a centre of excellence. It will support the hospital's goal of driving high quality care, allowing more patients to benefit from minimally invasive surgery, resulting in less pain, shorter hospital stays, and shorter recovery times than traditional open surgery.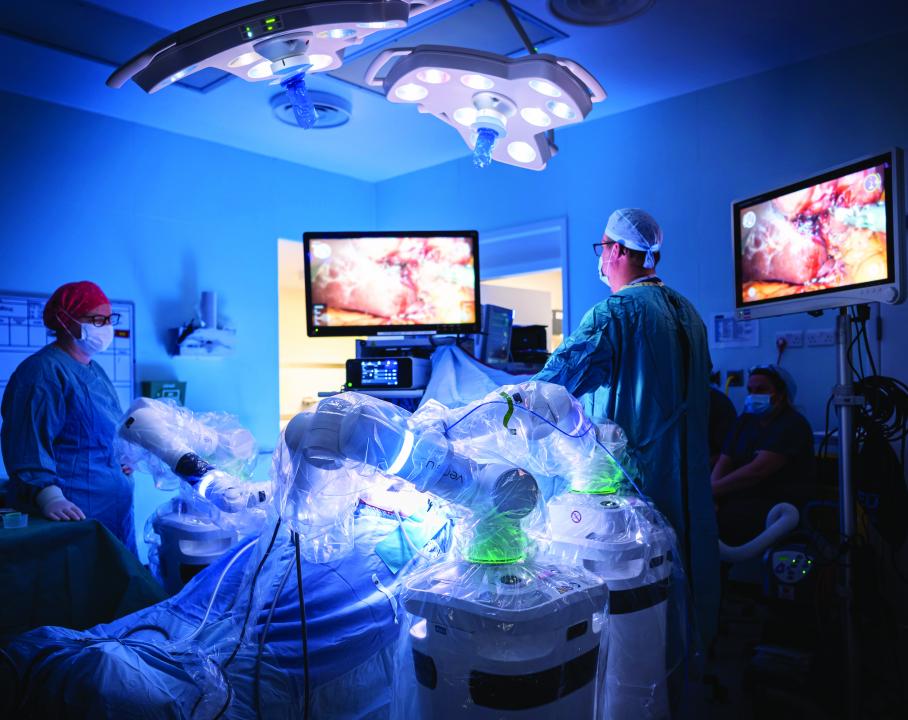 There have already been significant benefits through the upper GI programme, making it possible for surgeons to successfully perform the UK's first nissen fundoplication with the surgical robot, as well as a hiatus hernia repair. The nissen fundoplication is a  laparoscopic procedure performed for patients with gastroesophageal reflux disease.
Simon Higgs, Consultant General and Upper GI Surgeon at GRH, said: "It was important for us to bring in [this technology] to the hospital so that patients having both routine surgeries like cholecystectomies, as well as more complex procedures could benefit from the precision and accuracy that robotic surgery brings.
"Upper GI is an extremely busy department, and adopting [this technology] signifies a new era for the specialty as many more patients will receive minimal access surgery and be treated with this high-quality technology."
Mark Vipond, General Surgeon at GRH, added: "[This technology] brings multiple benefits for the trust and we are delighted to be working with [our partner] on this programme. One of the key reasons this was so appealing to us was the small, modular design, meaning that it can easily be transported to different departments so that it is being utilised as much as possible, bringing maximum value to the hospital and its patients."